Musculoskeletal disorders / Orthopedics
As a pioneer in medical X-rays, Shimadzu uses cultivated technology to provide strong support to the field of orthopedics through our diagnostic imaging systems that achieve low dose and high image quality and combine operability to enable concentration on patient care. We also offer comprehensive innovative solutions for diagnosing and treating bone diseases that increase with age.

Clinical Use
Tomographic imaging

Tomosynthesis is the imaging technology that fuses cone-beam CT reconstruction with digital image processing to produce multiple images specified cross-sections from a single tomography scan. This application is available with Shimadzu general radiography system and R/F system. Tomosynthesis images have minimal influence from the metal artifacts usually seen on CT images. Therefore, Tomosynthesis is nowadays spotlighted in orthopedics for the follow-up diagnoses of the patient with metal implants.
Clinical Use
Long view imaging
This application provides simple operation, a large imaging area, and easy-to-interpret images for efficient examination and accurate diagnosis. It is available with the Shimadzu R/F system and general radiography systems.
Clinical Use
High-function, high-throughput general radiography
General radiography is usually most often performed in X-ray examinations. To improve operability and throughput, our systems have an auto-positioning function and power assist function, reducing the burden on operators, reducing total examination time, and allowing the busy healthcare workers to focus more on patient care. (Available functions depend on the system model, etc.)
General radiography system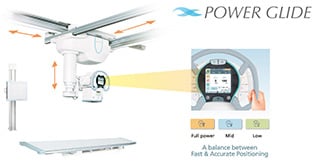 Digital Radiography System -
RADspeed Pro style edition featuring GLIDE TechnologyTM
Clinical Use
Mobile radiography for hospital rounds
The collapsible column provides a virtually unobstructed wide field of view during travel, making it ideal for daily hospital rounds. The optimized power assist system delivers smooth, light touch driving. The low-profile and curved shape provides open space behind the mobile cart, allowing for a more natural driving position. The embedded 19-inch touch panel display is excellent for quickly viewing images in just 2 seconds after exposure, which is especially useful in emergency rooms(ER). (Specifications and available functions vary depending on the system, FPD model, etc.)
Mobile X-ray system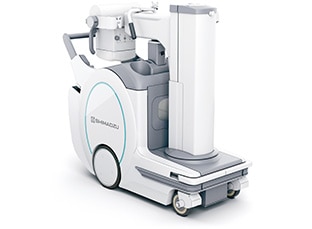 Digital Radiographic Mobile X-ray System -
MobileDaRt Evolution MX8 Version
Clinical Use
Fluoroscopy
The enlarged wide, open C-arm realizes easy approaches to the patient minimizing the interface with the operating table. On the other side, the minimized system width of just 80cm makes it much easier to move through narrow doors or position the unit in a busy operating room with many surgical devices. The "Touch Focus" option will help you provide the proper image optimization, in real time, focused on your region of interest.
Mobile C-arm Imaging System
OPESCOPE ACTENO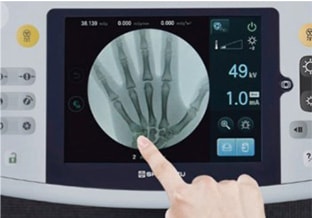 Clinical Use
Artificial joint replacement support

The quality of life of an arthralgia patient has been dramatically improved by artificial joint replacement. T-smart (Tomosynthesis-Shimadzu Metal Artifact Reduction Technology) on our fluoroscopy system and general radiography system provides enhanced tomographic images by suppressing the artifacts around the metal objects even further. This application greatly helps in follow-up replacement surgeries, as it precisely enables diagnoses of the boundary between bone and implant.