Lifestyle Diseases

Lifestyle-related diseases are often treated over a long period. To reduce this burden on patients and healthcare workers, we are offering diagnostic and treatment solutions that enhance usability and operability to assist procedures smoothly in a short time and develop systems to support new treatments.

*1: For Research Use Only. Not for use in diagnostic procedures.
*2: This technology/measure is still currently in research and development. For research use only. Not for use in diagnostic procedures.
Clinical Use
For bariatric examinations

Shimadzu R/F systems, SONIALVISION G4 LX edition, and FLUOROspeed X1 edition have a high patient load capacity of up to 226 kg (500 lbs.)* in all movements and provide enough space for a bariatric wheelchair. These functions support more efficient bariatric studies.
*Optional for SONIALVISION G4
Clinical Use
DSA/Orthopedics

OPESCOPE ACTENO is the device that enables stress-free operation and positioning through its enlarged wide opened C-arm and minimized system width. The capability of high-speed, real-time DSA is available for angiography examinations or dialysis shunt radiography. The "Touch Focus" is a real-time function which will help provide the proper image optimization focused on your region of interest.
Mobile C-arm Imaging System
OPESCOPE ACTENO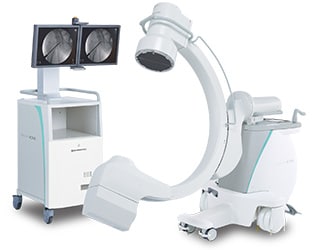 Research Use
AVS support for primary aldosteronism
Shimadzu's advanced technologies in the analytical field (Liquid Chromatograph-Mass Spectrometry) and the medical field (Angiography system) have been gathered for Adrenal Venous Sampling (AVS) for the diagnosis of primary aldosteronism. The sampling viewer can handle information: the low-dose, high-quality clear reference images, the barcode registration of blood samples to avoid human error, and the analytical results using AVS solution. By accurately plotting the sampling locations and mass spectrometry results on reference images, intuitive reports can be created that are easy to understand.
AVS Support System
* For Research Use Only. Not for use in diagnostic procedures.