Imaging X-Ray Photoelectron Spectrometer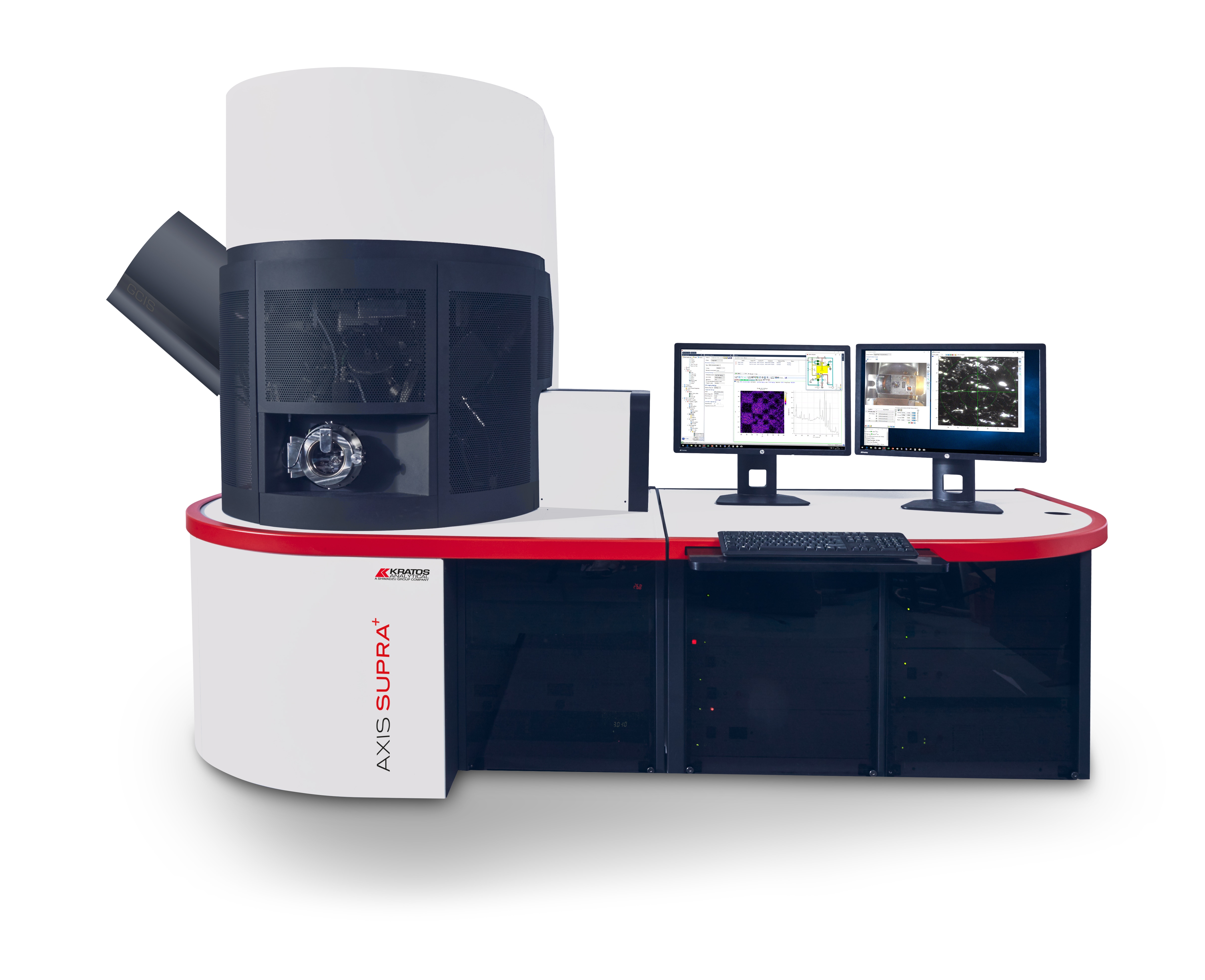 Leading Surface Analysis
X-ray photoelectron spectroscopy (XPS) is unique in providing quantitative elemental and chemical state information from the uppermost 10 nm of a materials surface. The AXIS Supra+ (also known as Kratos Ultra 2 in Japan) is a market leading X-ray photoelectron spectrometer combining state-of-the-art spectroscopic and imaging capabilities with the highest level of automation currently available.
Unrivalled large area spectroscopic performance allows photoelectron spectra to be acquired from all types of materials including metals, semi-conductors and insulators. Fast, high spatial resolution XPS imaging reveals the lateral distribution of surface chemistry and aids further characterisation with selected small area analysis.
The AXIS Supra+ is designed for flexibility allowing additional surface analysis and surface preparation options to be added without compromising XPS performance. This makes it an invaluable tool for complete materials surface characterisation.
{"title":"Downloads","description":"Download the latest brochure.","source":"product","key":4565,"max":"30","filter_types":["brochures"],"link_title":"View other Downloads","link_url":"","pdf_links":[]}
{"title":"Applications","source":"product","key":4565,"max":"3","filter_types":["applications","application_note","posters"],"link_title":"Learn more","link_url":"\/an\/products\/surface-analysis\/x-ray-photoelectron-spectrometer\/axis-supra\/applications.html","config_list":[],"page_links":[{"type":"page","link_title":"Batteries and power storage","link_url":"\/an\/products\/surface-analysis\/x-ray-photoelectron-spectrometer\/axis-supra\/applications.html#anchor_0","time":""},{"type":"page","link_title":"Hard X-ray photoelectron spectroscopy (HAXPES)","link_url":"\/an\/products\/surface-analysis\/x-ray-photoelectron-spectrometer\/axis-supra\/applications.html#anchor_1","time":""},{"type":"page","link_title":"Coatings and thin-films","link_url":"\/an\/products\/surface-analysis\/x-ray-photoelectron-spectrometer\/axis-supra\/applications.html#anchor_2","time":""}]}
{"title":"Technical Documents","source":"product","key":4565,"max":"3","filter_types":["technical","technical_reports","white_papers","primers"],"link_title":"Learn more","link_url":"\/an\/products\/surface-analysis\/x-ray-photoelectron-spectrometer\/axis-supra\/applications.html#tbaleAnchor_technical","config_list":[],"page_links":[]}
{"title":"Manuals","source":"product","key":4565,"max":"3","filter_types":["manuals"],"link_title":"Learn more","link_url":"\/an\/products\/surface-analysis\/x-ray-photoelectron-spectrometer\/axis-supra\/applications.html#tbaleAnchor_manual","config_list":[],"page_links":[]}