Mobile C-arm Imaging System

OPESCOPE ACTENO

Free and easy positioning achieves optimal performance to meet the demands of the operation room and emergency room. The total system pursues both high image quality and ease of use. This is the pinnacle of our evolving OPESCOPE-series.
Amazing Operability
The fully counter-balanced C-arm provides extra-light and quick C-arm movements and positioning.
Our exclusive counter-balanced C-arm vertical movements realizes much quicker height adjustments in your daily works.

Doctor Handle (option)
Shimadzu's unique C-arm lock/ release button at the image intensifier to enable you to position the C-arm also from doctor side without going back to the cart-unit.
Large C-arm but Compact Body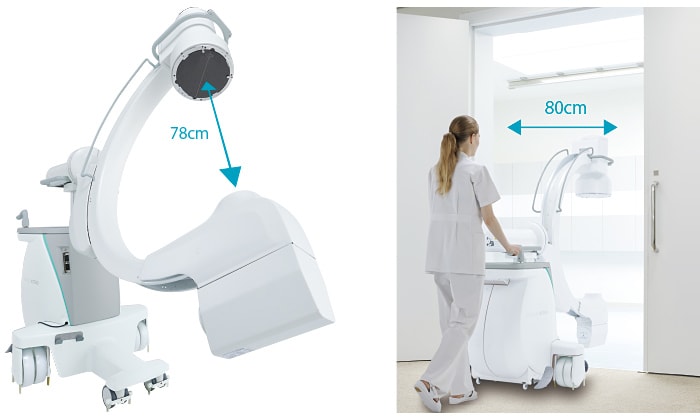 The enlarged 78cm wide opened C-arm realizes easy approaches to the patient minimizing interface with the operating table. On the other side, the minimized system width of just 80cm makes it much easier to move through narrow doors or position the unit in the busy operation room with many surgeon devices. In addition, the absence of levers and cables on the C-arm makes it easy to wipe and keep clean which will be a significant advantage in hygienic point of view.
Technology of Imaging & Performance
1M high-resolution CCD camera combined with our advanced imaging technologies delivers the required high image quality to you.
X-ray conditions can be easily set with a large Touch-screen on C-arm unit, where you can also select / change Simple-mode or Expert-mode. The screen can also show the fluoroscopic images as an optional feature.

New Dose Management
ACTENO incorporates functions to maintain high image quality and reduce X-ray exposure, even during long surgical procedures, such as Pulsed fluoroscopy, Multi Beam Hardening(MBH) filters, and Virtual Collimation. Furthermore, the area dose value is calculated and always displayed in real time on the touchscreen and monitor.(option)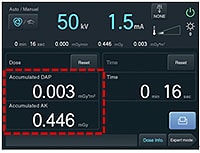 Touch Focus (option)
The "Touch Focus" option will help you to provide the proper image optimization focused to your ROI which you touched in real time.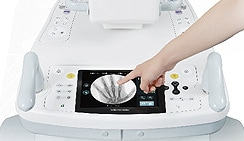 Free Mode
This mode is to provide best image brightness for any Free point which you touched, by optimizing (changing) kV.
Lock Mode
This mode is to optimize the brightness for any touched area (ROI), and then keep (Lock) that best brightness to that ROI by holding the imaging parameters until your release.
The product design may be partially changed without notice.
This page may contain references to products that are not available in your country. Please contact us to check the availability of these products in your country.
LITERATURE
Hiroaki Kimura, Clinic Director, Kimura Pain Clinic
Kyohei Hanamura1, Syuichi Matsuda2, Masami Kinoshita3
Radiological Technologist1, Director2, Nurse3
Iwata Mates Clinic
Shouji Takamura
Medical Systems Division, Shimadzu Corporation