Dedicated Breast PET System – Elmammo

This "Elmammo" is another unique PET solution from Shimadzu. This system is designed dedicated for breast scanning with super-high resolution but without pain to patients.
Comfortable Painless Examination

Detectors are arranged in a circle surrounding the breast. The patient is examined in a relaxed position, with the breast simply placed comfortably in the detector hole. Because it does not compress the breast, there is no compression pain involved. Patients are released from uncomfortable pains came from conventional Mammography.
Excellent High Resolution
Elmammo can provide such a clear image output showing each FDG uptake along the mammary gland individually, while it will be typically visualized just as one mass by whole-body PET/CT scanners.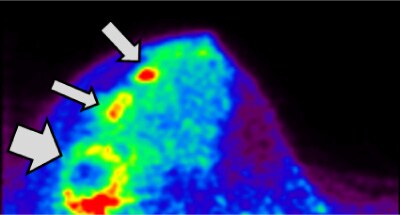 Configured with 1.44 mm square detecting elements, the world's smallest detecting element used for a clinical PET system (as of September 2014), the system offers higher resolution for viewing detailed drug distributions as compared to conventional whole body PET systems.

Note : The availability of this product is regionally limited due to regulatory or other reasons.
Please contact our local sales representative to confirm its availability in your country.
The product design may be partially changed without notice.