General Radiographic System - RADspeed Pro style edition MF
Floor-mounted X-ray Tube System

The System MF series is Shimadzu's general radiographic system for compact floor-ceiling / wall mounted tube support installations. Designed to exacting specifications, the RADspeed System MF delivers high-performance, high-quality, and cost-effective operation in a superior general radiographic system.

Generator Equipped with High-Frequency Inverter Technology
The RADspeed MF general radiographic system is equipped with an advanced-level generator designed using high-frequency inverter technology, which produces sharp and high-contrast X-ray images. User-friendly Sequential Multidirectional Radiography functions allow the operator to register and then utilize up to 7 sequential preset memory parameters.
Space Saving Concept
The compact, space-saving high-frequency generator and tube support provide greater working space and flexible layout.

Easy and Quick Positioning of X-ray Tube
Tube positioning can be performed easily and quickly with the fine-tuned counter weight balance mechanism.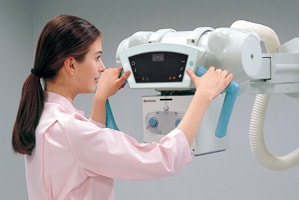 The product design may be partially changed without notice.
This page may contain references to products that are not available in your country. Please contact us to check the availability of these products in your country.
LITERATURE
Junya Yamamoto
Medical Systems Division, Shimadzu Corporation