Multi-purpose R/F System - SONIALVISION G4 LX edition



*Transfers to the Virtual Exhibition site.

BEST in CLASS Multi-functional Universal R/F System

With the SONIALVISION G4, Shimadzu offers the BEST in CLASS Multi-functional Universal RF System - one that is useful in a variety of examinations and examination environments, provides high image quality minimizing X-ray dose levels, and is easy to operate.
BEST Imaging - Consistently High Image Quality
Best-in-class, super fine resolution FPD and SUREengine Advance, state-of-the-art digital Image processing technology ensures the highest image quality ever.
BEST Imaging – Low exposure Level and optimal image quality
SCORE PRO Advance
Reduces background noise components in real time to emphasize only the target area. SCORE PRO Advance offers great exposure dose reduction and improved fluoroscopic image quality in cholangiopancreatoscopy.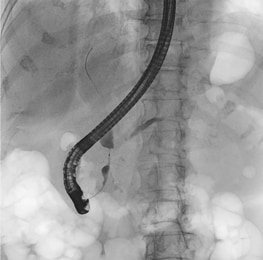 BEST Performance - Versatile Design for Various Examinations
The system has been thoughtfully designed to consider all users in a diversity of situations, making it ideal for a wide variety of examinations, such as Orthopedics, General Radiography Studies, Barium Studies, Endoscopy, Urology and Angiography etc. Long imaging chain's movement capability and 17 × 17 inches wide field FPD will provide you more than 2.0m long patient coverage without moving a patient. There is enough space for wheelchair, and the column can be extended up to SID 180cm* for chest radiography. These designs enable you to perform all kinds of examinations more comfortably and safely.
Orthopedics and General Radiography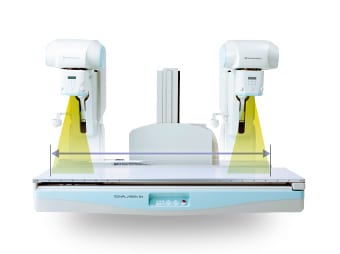 Over 2m imaging range
capturing the patient's entire body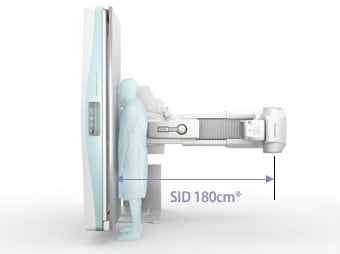 For chest radiography
Barium Swallow Studies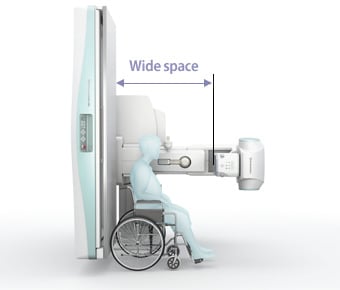 Enough space for wheelchair patients
Pediatric, Bariatric and Geriatric Studies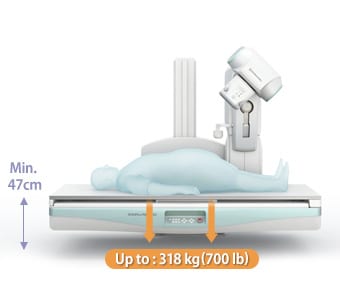 Best in class minimum table height
and high patient load capacity
BEST Performance – Advanced Applications
Tomosynthesis(Premium option)
Shimadzu realized the practical use of Tomosynthesis on RF-table systems, SONIALVISION series.
Tomosynthesis is a state-of-the-art imaging technology to provide high quality multi-slice images to visualize the part which was invisible by the conventional plain radiography, in a simple and quick workflow, and at low exposure dose. Therefore, Tomosynthesis is now spotlighted more and more in the world.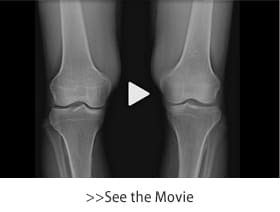 Slot Radiography(Premium option)
Slot Radiography is an ideal technology to obtain long-view images for full spine / full legs with great accuracy and efficiency. It acquires and automatically integrates a series of accurate images of a few centimeters width central slit straight to the x-ray detector, as the imaging chain successively moves along the patient on SONIALVISION G4.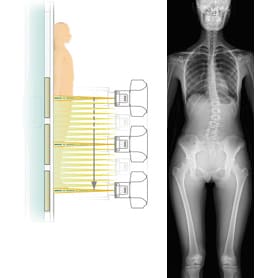 Comprehensive Dose Reduction and Management
SONIALVISION G4 achieves comprehensive dose reduction as a total system, equipped with various functions to reduce radiation exposure levels effectively such as removable grid, ideal Grid-controlled Pulsed fluoroscopy, new collimator with Multi Beam Hardening(MBH) filters, Virtual Collimation and above-mentioned high quality imaging ability itself will also contribute to even further dose reduction possibility while keeping good output image quality.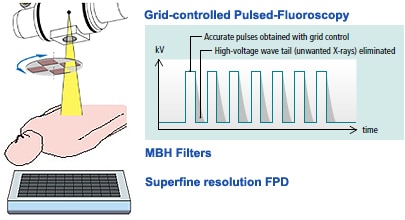 SONIALVISION G4 will be the most-advanced universal system solution for your future which will increase your productivity and safety in your conventional RF rooms, and new-coming application features born from creative thinking will provide even greater new clinical advantages for you.
SONIALVISION G4 User Voice
SONIALVISION G4 LX edition User Voice – Santiam Hospital & Clinics, USA
SONIALVISION G4 User Voice – The Brooklyn Hospital Center, USA
The product design may be partially changed without notice.
This page may contain references to products that are not available in your country. Please contact us to check the availability of these products in your country.