Automatic Radiography System - RADspeed Pro style edition featuring GLIDE Technology™


New Power Assist Function for Superb Operability and Throughput
OPTION
The newly-developed POWER GLIDE™ will assist your X-ray tube positioning by motors and makes it quick and extremely light, just like "Gliding in Air". It will reduce technologists' burdens and increase patient throughput.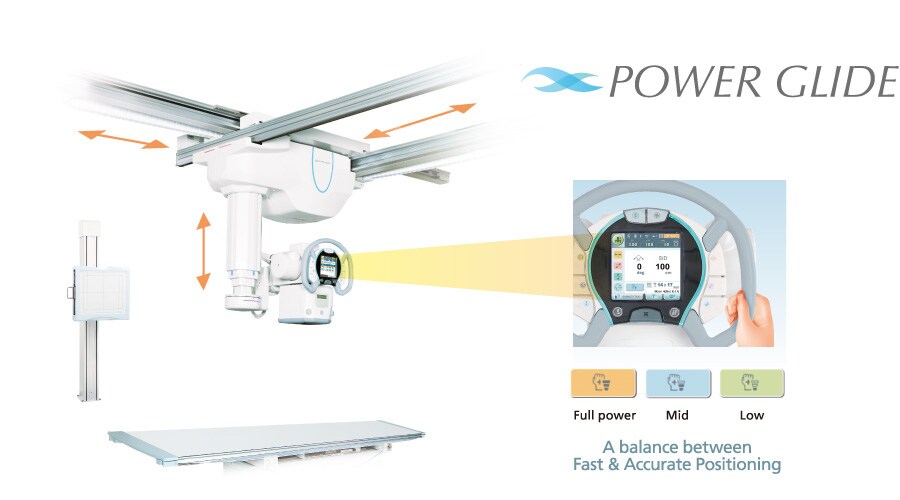 5-axis (max.) Auto-Positioning Feature
OPTION
The Auto-positioning is another premium feature to move the position and angle of the X-ray tube fully automatically to the programmed position according to your APR selection, or to any desired position that you programmed, at the press of a single button of its remote controller. The effortless tube positioning allows the operator to focus on patient care and reduces total examination time.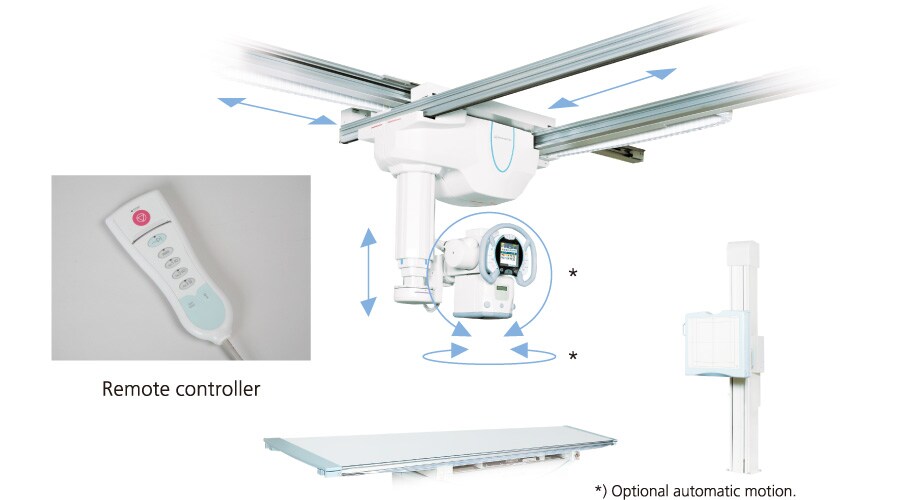 Usability and Durability
The ceiling X-ray tube support ensures wide-range vertical stroke of 1,600 mm to examine whole body up to lower extremities in standing position. This support also rotates on the vertical and horizontal axis in addition to fixed positioning at any desired angle, enabling fast positioning at complex angles for orthopedic applications. The robust table supports Max.295kg. patient load.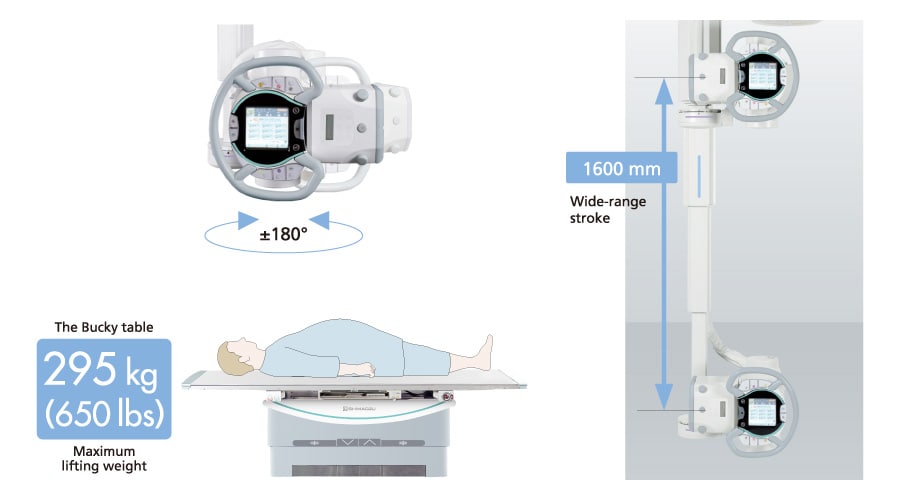 Easy-to-Operate, Fully Featured, Intelligent X-Ray High Voltage Generator
OPTION
Up to 800 Anatomical Programs can be registered on the system. Registering the conditions as programs associated with examination area and technique allows conditions to be set up smoothly.
The LCD screen and illumination color can change according to the Bucky table or X-ray tube settings selected. Different alarm sounds can also be specified for various events, such as when preparation for exposure is complete.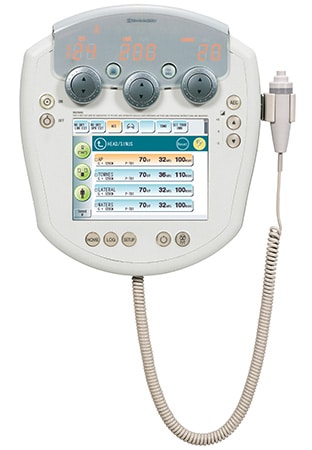 Combination with DR system Evolves Your Workflow
OPTION
Using a DR system will change your workflow and reduce your examination time. The preview image can be displayed a few seconds right after exposure. The light-weight wireless FPD with high level water/dust-resistance will expand its utility further and can be kept clean even in infectious disease wards.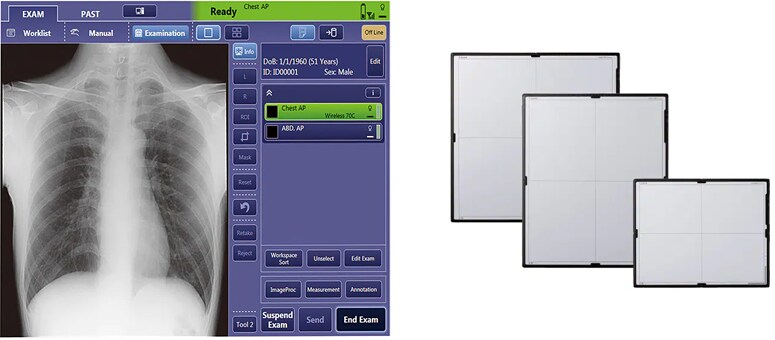 The FPDs can be flexibly selected from 3 different sizes, 17"×17", 14"×17", 11"×14" depending upon your clinical purposes.
(*The design and specifications shall depend on DR choice.)
Auto Stitching-"Speed Stitch"
OPTION
Images are taken while swinging the X-ray tube and moving the FPD. These images are automatically stitched together to obtain wide-range images along the body axis instantly.
*This function is available in case of the combination with CANON CXDI series and Konica Minolta AeroDR series.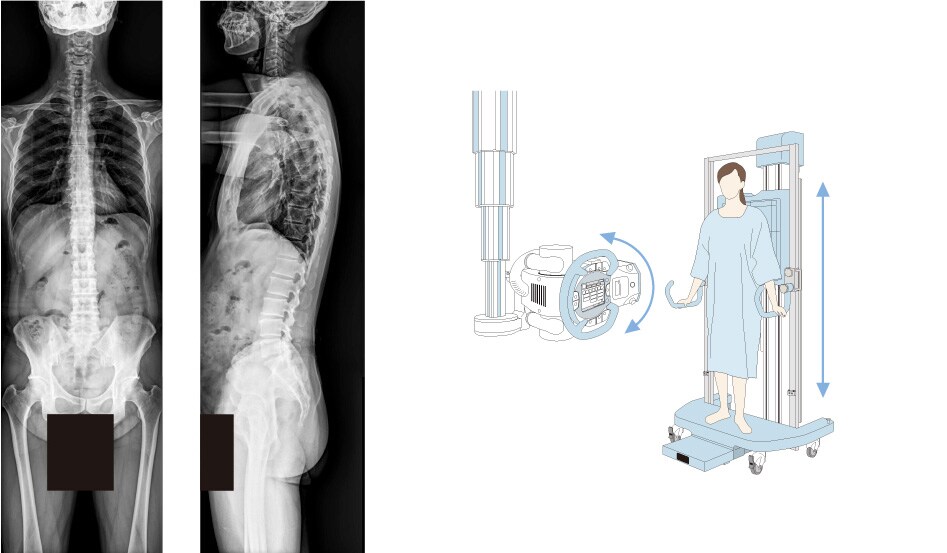 Improving Digital Workflow
Scattered X-ray Correction Enables Grid-less Radiography
OPTION
The system can be equipped with a function to remove scatter noise and improve image contrast, making it possible to perform exposures without the use of a grid making it easier to handle FPD's.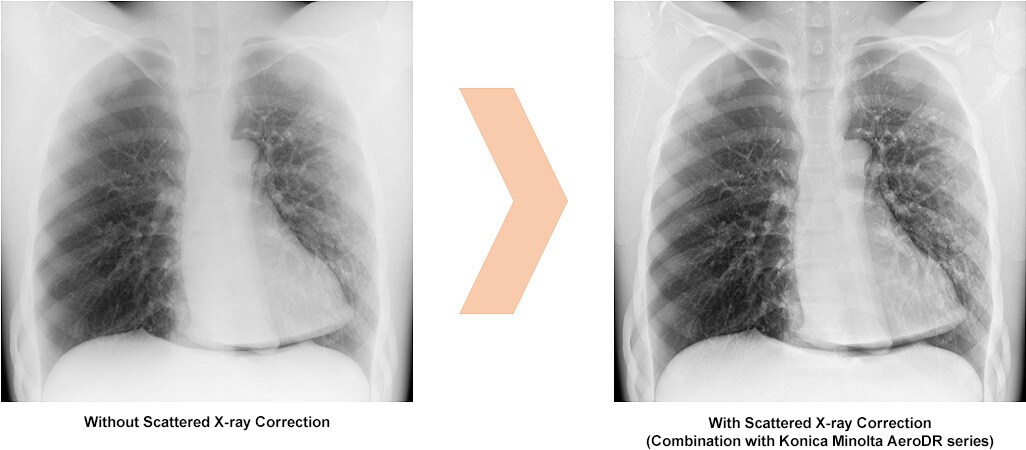 Edge Enhancement for Safer Procedures
OPTION
For use in surgical operations, the new image processing function helps to confirm the absence of residual instruments like gauze and needles. This is also useful to reconfirm locations for the catheter tip in PICC insertion procedures more clearly.
Comprehensive Radiation Dose Management
OPTION
The radiation dose matters nowadays. RADspeed Pro achieves the advanced dose reduction and management in the total system concept. The Auto-collimator will automatically select a proper filter according to your APR selection to optimize the exposure dose and image quality. For dose management, the system intelligence can automatically calculate the DAP value from the X-ray conditions and display at each exposure. Some DR combinations can offer various dose care options such as Reject analysis, Exposure index, DICOM RDSR(Radiation Dose Structured Report).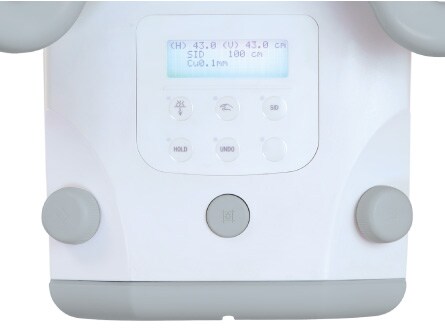 The product design may be partially changed without notice.
This page may contain references to products that are not available in your country. Please contact us to check the availability of these products in your country.