Remote-controlled R/F System - FLEXAVISION SF/HB/FD package

SF Package -Cassette SFD system
Flexible Design Supports a Wide Variety of Examinations
FLEXAVISION moves quickly to support a variety of examinations and provides wide-range coverage that can minimize patient movement.
Cassette Spot Filming
FLEXAVISION SF has SFD that support multi size Cassette up to 14" x 17". The Cassette is easily loaded from the front side without Cassette tray, and quickly delivered to the front of the I.I., ensuring high-quality imaging by right timing.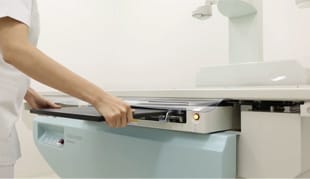 The product design may be partially changed without notice.
This page may contain references to products that are not available in your country. Please contact us to check the availability of these products in your country.