A multifaceted evaluation of plastics – Determining the Effects of Annealing on the Mechanical Properties of PLA Plastics and Investigating the Causes of the Changes
Improving quality and stability through a multifaceted evaluation of plastics
A multifaceted evaluation of plastics – Determining the Effects of Annealing on the Mechanical Properties of PLA Plastics and Investigating the Causes of the Changes
Plant-based PLA plastic, a substitute material for the ABS plastics commonly used in automotive and electrical components, is a promising material for reducing environmental impact. It is said that PLA material properties, such as heat resistance, are enhanced by annealing.
In this example, the material properties of two samples, one (sample A) that was annealed and another (sample B) that was not, are compared to demonstrate the effect of annealing on their mechanical properties and to clarify the causes of any changes.
Evaluation of the Effect of Annealing on Mechanical Properties
It was found that annealing increases the elastic modulus and HIT(Indentation hardness) and reduces the elongation at failure.
■ Tensile Testing: AGX-V
The tensile strength and elastic modulus were increased by annealing, but the elongation at failure was reduced.
Table 1 Tensile Test Results
 
Annealing Conditions
Tensile Strength
(MPa)
Elastic Modulus
(MPa)
Elongation at Failure
(%)
Sample A
None
58.7
3660.9
3.6
Sample B
100 °C, 30 min
62.5
4020.8
1.9
Table 2 Hardness Test Results

|   | HIT(Indentation hardness)(MPa) |
| --- | --- |
| Sample A | 221.5 |
| Sample B | 277.6 |
Investigating the Causes of the Changes in the Mechanical Properties Due to Annealing
The mechanical properties had changed due to increased crystallization caused by annealing.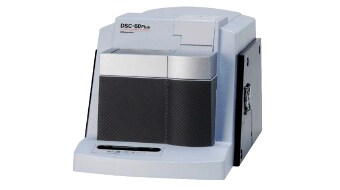 The results of the measurements on sample A found that the glass transition point was 55.96 °C and the crystallization peak was 114.08 °C, but neither was found in the results of the measurements on sample B, indicating that crystallization had progressed due to annealing.
Key points!
Multifaceted evaluation is effective for evaluating the effect of the molding conditions on mechanical properties and their causes.
Hardness testing enables the evaluation of mechanical properties by only applying a load to part of the sample.
Combining tensile and hardness testing to accumulate material-based data is effective at improving quality control efficiency and the quality control of molded products that are difficult to test using tensile testing.