Occupational health and safety
Starting in 1921, Shimadzu designated a factory safety day to implement safety and health
activities based on the belief that company activities cannot be separated from preparing a safe
and healthy workplace environment. In addition to complying with applicable laws, regulations,
and company regulations related to occupational safety and health, we also provide safety and
health training, where veteran employees teach safety skills to newer employees, for example,
and also ensure thorough risk assessment.
Occupational Health and Safety
In recent years, accidents involving unskilled workers employed for less than five consecutive years have accounted for about 40 % of all accidents. To prevent workplace accidents caused by lack of skill or experience, we have been conducting safety training and danger anticipation training for new employees and those without experience on a given task. Part of that training involves using a safety simulator to experience simulated workplace accidents. By experiencing danger participants improve their ability to anticipate danger. Actually experiencing danger increases worker ability to sense and anticipate danger, which is expected to help decrease workplace accidents. No serious workplace accidents occurred in FY 2017.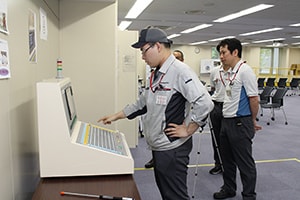 Simulator for Experiencing Pointing/
Calling Safety Measures
Chemical Substance Risk Management
Due to a June 2016 revision in the Japanese Industrial Safety and Health Act, chemical substance risk management became mandatory. Consequently, we implemented measures for 3000 items and reviewed measures for notifying workers of risks associated with chemical substances and measures to mitigate health risks. In FY 2017, substitutes for toluene and other hazardous substance were implemented in some departments. That substitution process will be continued in FY 2018 by setting and implementing additional new targets. To improve the efficiency and sophistication level of managing chemical substances, a cross-departmental organization was established (Chemical Substance Management Team) to handle what was previously being performed by several of the main departments responsible for laws and regulations. The team will work closely with the various departments and affiliated companies that use the chemical substances to exchange information and prepare a system for responding quickly in the event of an emergency.
Workshops on Managing Chemical Substances
In addition to providing information about risks within and outside the company, revisions to laws, and so on, the Chemical Substance Management Team has also been conducting ongoing workshops on managing chemical substances. The workshops not only explain the risks associated chemical substances in an easy to understand way using pictures and video, but also provide an opportunity to think about reducing risks, such as by displaying an actual absorbent mat or other supplies for chemical spills, or a CFC-free air duster.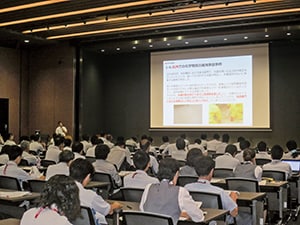 Workshop on Managing Chemical Substances
Status of occurrence of occupational accidents (Trends over the past 10 years)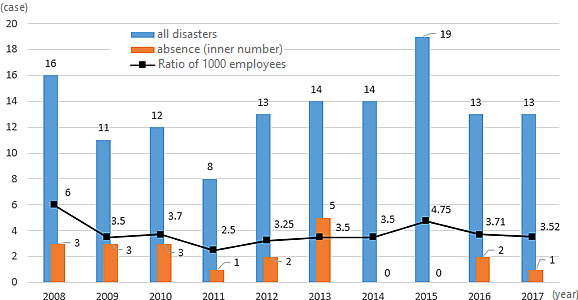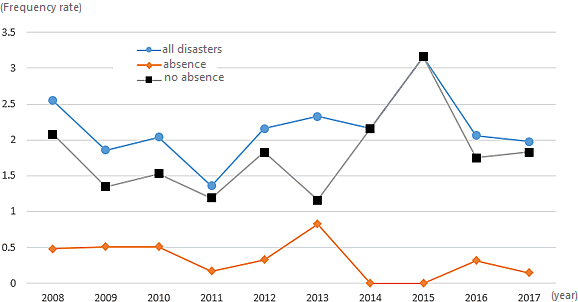 *Frequency rate: Number of accidents per 1 million working hours