Occupational health and safety
Starting in 1921, Shimadzu designated a factory safety day to implement safety and health activities based on the belief that company activities cannot be separated from preparing a safe and healthy workplace environment. In addition to complying with applicable laws, regulations, and company regulations related to occupational safety and health, we also provide safety and health training, where veteran employees teach safety skills to newer employees, for example, and also ensure thorough risk assessment.
Safety and Health Policy
Code of Conduct on Health, Occupational Safety and Health
We strive to create a safe and secure work environment and to maintain and promote the health of our employees.
Ⅰ Basic Approach
Realizing a safe and hygienic workplace environment and maintaining and improving the health of employees are inseparable from corporate activities that provide products and services that customers can trust. It is our responsibility as well as our corporate responsibility to constantly promote health and safety management activities.
Ⅱ What we do
(1) We place the highest priority on human safety and health in all aspects of our business activities.
(2) We strive to prevent accidents and occupational diseases in the workplace and improve the workplace environment. We also conduct regular drills to prepare for fires and natural disasters.
(3) In order to maintain and improve the health of our employees, we strive for self-management and follow instructions from doctors and medical professionals when necessary.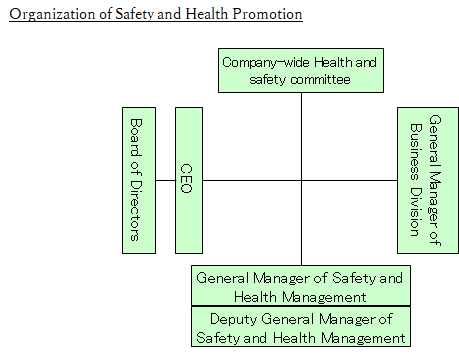 Efforts to Prevent Occupational Accidents
In recent years, accidents involving unskilled workers employed for less than five consecutive years have accounted for about 40 % of all accidents. To prevent workplace accidents caused by lack of skill or experience, we have been conducting safety training and danger anticipation training for new employees and those without experience on a given task. Part of that training involves using a safety simulator to experience simulated workplace accidents. By experiencing danger participants improve their ability to anticipate danger. Actually, experiencing danger increases worker ability to sense and anticipate danger, which is expected to help decrease workplace accidents. In addition, since there are many occurrences in the engineering department, efforts are being made to focus on this department. No serious workplace accidents occurred in FY 2019.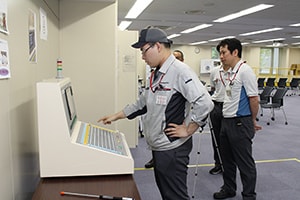 Simulator for Experiencing Pointing/
Calling Safety Measures
Chemical Substance Risk Management
We are steadily continuing the chemical substance risk assessment required by the Industrial Safety and Health Law, making employees aware of the danger posed by chemical substances, and studying measures to reduce the risk of health hazards. Since fiscal 2017, we have been working to reduce the use of hazardous substances such as toluene and to replace them as a company-wide effort across the organization.
In order to improve the efficiency and level of management of chemical substances, which had been handled by several departments responsible for laws and regulations, we established the "Chemical Substances Management Promotion Team" (a cross-sectional organization). This team plays a central role in closely exchanging information with departments and Group companies that use chemical substances and establishing a system to respond quickly in the event of an emergency.
Workshops on Managing Chemical Substances
The Chemical Substance Management Promotion Team provides education to those who handle chemical substances subject to laws and regulations to give them the necessary skills. We also conduct emergency trainings for substances identified as having a significant impact on the human body and the environment in the event of a leak.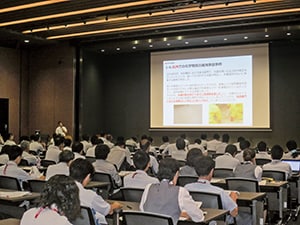 Workshop on Managing Chemical Substances
Status of occurrence of occupational accidents (Trends over the past 10 years)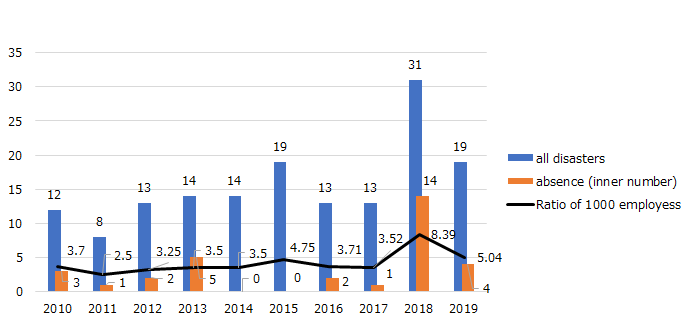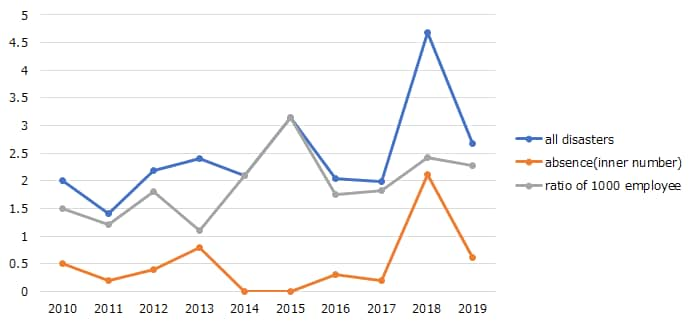 *Frequency rate: Number of accidents per 1 million working hours