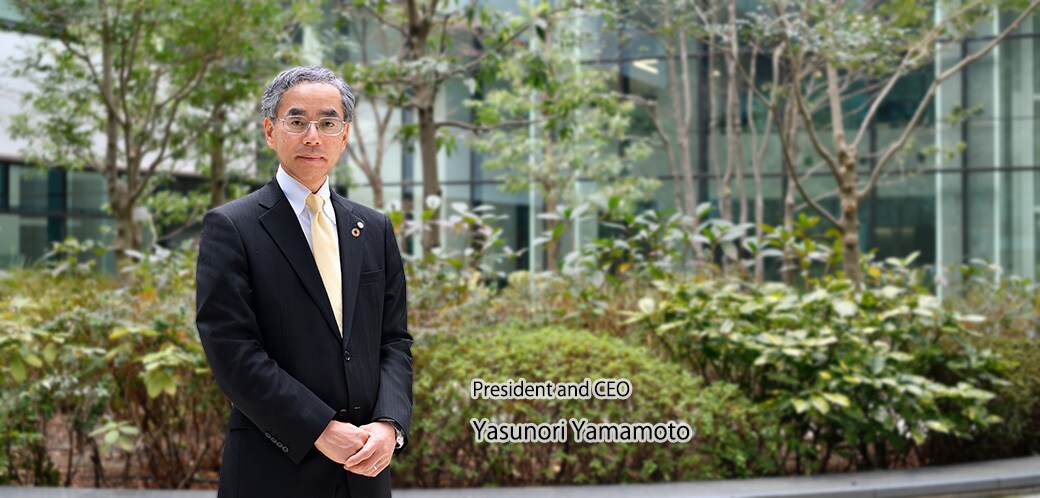 Achieving a "Society Brimming with Empathy"
- Best For Our Customers -
Achieving a "Society Brimming with Empathy" with All our Stakeholders
On April 1, 2022, I was appointed the 13th President and CEO of Shimadzu Corporation.
Since assuming my new position, I have taken a hard look at myself and Shimadzu Corporation to carefully consider what the company should become and how Shimadzu can contribute to all of you, our stakeholders.
In addition to the COVID-19 pandemic and climate change, countless other challenges such as supply chain and logistical disruptions have resulted in dramatic changes in people's sense of values and the kinds of challenges facing society. It is unclear how the Earth and society will change in the future, but I am convinced that the preciousness of human life and health and the need to protect our planet will become ever more important. I also believe deeply that the way forward for Shimadzu is through our company philosophy, "Contributing to Society through Science and Technology."
One person working alone can achieve almost nothing but we can accomplish amazing things by working together, even traveling to the moon. Healthcare, medicines, trains, automobiles, computers, smartphones, and almost everything else created by man originally started with someone's dream and was completed through the efforts of those who wanted to make it a reality.
Shimadzu should follow a path of generating business by combining our dreams with the dreams of customers and then nurturing them together. That means business is cultivated by building relationships of mutual trust between the company and employees, customers, and stakeholders. I believe that my mission is to provide an environment where both customers and employees can fulfill their dreams. By working together with all stakeholders, we can create a company that continues to move toward achieving a "society brimming with empathy."
I want to work with all of you to move steadily, step by step, and achieve that goal.
Medium-Term Management Plan
Following our strong performance last year, which broke previous records, the results for FY 2021, the second year of the current medium-term management plan, are also expected to be strong. Sales of our mainstay products, such as liquid chromatographs, mass spectrometers, and turbomolecular pumps, are achieving significant growth despite the major changes in society. Sales of pandemic and climate change-related products are also performing well. Nevertheless, issues have appeared for some businesses and capital equipment investments have been delayed due to the pandemic. This has also caused the development of certain products to be delayed due to difficulties in obtaining parts. During FY 2022, the last year of the medium-term management plan, we will implement measures to resolve such issues and prepare for the next medium-term management plan.
Fighting Infectious Diseases
The COVID-19 virus continued to spread during 2021 and has had a serious impact on society. Shimadzu Group also continued to experience challenges in our business activities and working practices. Meanwhile, the novel coronavirus detection kits released in April 2020 immediately after Japan declared its first state of emergency, the DNA sequencer automatic PCR testing system released in November 2020 for clinics, and the mobile X-ray systems, which can be moved to a patient's bedside for pneumonia examinations, are all being used to test for infections and have contributed to treatment and prevention of the spread of the virus.
In addition to supplying products, we have also been focusing efforts on cooperating with the government, universities, hospitals, healthcare institutions, and companies to develop infectious disease countermeasure systems. Our efforts have already achieved some success in providing support for establishing PCR testing centers at universities and companies, building networked systems for managing test data, and monitoring the presence of viruses in sewerage. In particular, we established AdvanSentinel, a joint venture for monitoring viruses in sewerage, in partnership with Shionogi & Co., Ltd. AdvanSentinel has now started monitoring sewer water in an effort to contribute to understanding the status of COVID-19 infection and also to understanding other infections and public health risks.
We also think that automatic PCR testing systems represent a major opportunity for fighting infectious diseases in the future. Once the capability to quickly test patients at clinics can be established nationwide, a system for rapidly identifying those infected and implementing countermeasures can be established to control the spread of other infectious diseases. To that end, we will continue to develop reagents for infectious diseases other than COVID-19 and devise ways to test people more easily.
Sustainability of Society and Shimadzu
Our goal at Shimadzu is to create a bright future based on a two-pronged approach of "solving challenges in society through business operations" and "engaging in responsible activities as a member of society" while conducting these activities in harmony with the Earth, society, and mankind.
For 147 years since Shimadzu was founded, the company has continued to do business based on the corporate philosophy "Contributing to Society through Science and Technology." In 1992, Shimadzu adopted the management principle "Realizing Our Wishes for the Well-being of Mankind and the Earth" and outlined specific areas where Shimadzu would operate to support the corporate philosophy. As a result, we partnered with academic and research institutions in China and Southeast Asia, which were experiencing problems with water pollution at the time, to train analytical technicians and provide instruments. Even now, we continue to provide support for achieving sustainability, such as by working with experts to diagnose, treat, and measure health issues in healthcare institutions, developing instruments to support new drug development, as well as many devices used to ensure a safe and secure society.
In recent years, there has been a growing demand for sustainability management, but that is already consistent with Shimadzu's management principle and has further strengthened our commitment to continue in this business. Shimadzu's efforts in advanced healthcare, green innovation, and industrial development are also consistent with SDGs.
Therefore, by implementing sustainability management, we will follow up on the specified KPIs and make improvements to achieve sustained growth for Shimadzu and society. In terms of business, we will increase our sensitivity to uncover societal challenges and accelerate measures to solve them.
Contributing to the "Well-being of Mankind"
Advanced Healthcare
With regard to contributing to the "well-being of mankind," we will promote the advanced healthcare business and implement infectious disease countermeasure projects, areas that were identified as urgent priorities in the medium-term management plan.
We will continue to invest resources in the healthcare field. Given the continuing increase in elderly populations around the world and the decrease in contacts they have with other people, protecting mental health will also be a major challenge. The number of people worried about either their mental or physical health is expected to increase. Meanwhile, even for diseases that are difficult to treat after onset, it may be possible to maintain good health if signs are identified early and preventive measures are taken before the disease develops. We will also work to enable ultra-early diagnosis of dementia, lifestyle diseases, cancers, and other disorders from a few drops of blood and even engage in understanding how human emotions and the brain function. In the long term, we will contribute to establishing personalized treatment or preventative methods optimized to an individual's genomic information in an effort to achieve a society where all people can live physically and mentally healthy lives.
One milestone we are working urgently to achieve is the integration of analytical instrument technologies with medical systems. Shimadzu Group's medical systems are based on using images to detect abnormalities in the body. By combining our visualization technologies with the analytical instruments used for blood, urine, or other screening tests, pre-disease markers can be identified more efficiently. We have already begun achieving some success in the ultra-early diagnosis of Alzheimer's disease, and we intend to accelerate this in the future.
Contributing to the "Well-being of the Earth"
Green Innovation
We will also invest effort in the area of carbon-neutrality, which is gaining a lot of attention. We are already working to support decarbonization, such as by offering many testing machines that contribute to weight reduction in automobiles and instruments used to evaluate batteries for electric vehicles. Furthermore, we have been steadily making preparations for fossil-free fuels, such as by offering quality control solutions for hydrogen and biofuels. However, considering projected population increases, even if future CO2 emissions can be reduced through the widespread use of green energies, it would not be enough to combat climate change. Therefore, technology not only for reducing CO2 emission levels but also for sequestering and reusing CO2 in the atmosphere is required. Technology for reusing CO2 from the atmosphere to manufacture raw materials for fuels and plastics by artificial photosynthesis or using microorganisms is already being developed throughout the world, with many successes already reported. Shimadzu Group has been participating in such efforts with our analysis, measurement, and plant control technologies, contributing to carbon recycling and taking on the challenge of building a plant that reuses CO2.
Building Global Capabilities
I am proud that one major strength of Shimadzu is our ability to listen to what customers need and then respond to those needs quickly and in a detailed way. For customers in Japan, we are increasing the number of open innovation centers and accelerating measures to respond to customer needs more quickly and in greater detail. However, we have not reached that level of support for customers outside Japan. I see this as an urgent issue.
Starting from the time Chairman Ueda was President and CEO, we have been working to establish innovation centers in various regions of the world. The aim of these centers is to achieve business growth by strengthening local operation functions and working with business partners to solve problems unique to each region. The centers have also resulted in creating many opportunities for direct dialog with leading researchers in each region. Currently, Shimadzu Group's engineers in Japan provide backup support on request, but in the future we would like to build capabilities to develop software and accessories locally.
At the same time, we are reviewing our governance practices at subsidiaries outside Japan. Markets outside Japan already account for 70 to 80 percent of sales for our analytical and measuring instruments, making our subsidiaries outside Japan more important than ever. Due to the different needs and business conditions in each region, these subsidiaries need to be able to make decisions and implement them quickly, within the bounds of Shimadzu Group policies rather than having to seek a decision from the Head Office for each and every issue. To establish such governance systems, we are assessing the scope of empowerment and establishing a framework and rules.
Reforming Corporate Culture and Fostering Human Resources
People, in other words, our employees, are the most important foundation for the management of the Shimadzu Group. During periods of rapid change, such as today, the ideal situation is one in which employees empathize with management, understanding and sharing their policies and acting autonomously. Given that most Shimadzu employees are sincere and kind, they tend to respond thoroughly to each customer inquiry. Shimadzu employees also tend to value harmony, which results in a high degree of cohesiveness but also leaves many individuals hesitant to express their own views or assert themselves. In today's world, where a sense of urgency is required, there are many times when being assertive is appropriate. I believe my main mission as President is to nurture a culture of anticipating the future, where employees act proactively to sensitively identify challenges in society, propose their ideas to customers, and work to overcome challenges together with customers who agree with the importance of those ideas.
There are two main challenges in human resource development. One is developing executive management candidates. The other is developing human resources with a broad view of the world. I think we are no longer in an era where potential executive management candidates are selected based on conventional employee review processes. Employees should be given as many opportunities as possible and then assessed based on how successfully they perform in that context. Therefore, to put that approach into concrete practice, we intend to introduce an open job-posting system. We intend to decide on a project leader and then invite employees who want to participate in the project or are otherwise interested, to apply. Even personnel from a different division can apply. Breaking down organizational boundaries within the company and bringing together interested individuals to work on new projects will lead to the growth of both the individual and Shimadzu. The same principle applies to developing human resources with a wide view of the world. We intend to actively promote employees who want to gain experience working in a different culture, environment, or job by identifying employees who want to experience working outside Japan, conducting in-depth research at a university, or working in manufacturing. I am confident that exposing people to diversity from a young age will plant the seeds of new self-discovery and innovation.
Words and Interactions
As many know, there are four types of forces in nature: gravitational, electromagnetic, strong, and weak forces. All of these are made possible by the exchanging of particles that transmit forces. Though different particles are exchanged for each type of force and result in completely different magnitudes and other phenomena, all the forces are transmitted by the same method. In physics, these forces are referred to as interactions and result in everything we experience in nature.
After becoming part of management at Shimadzu, I often think back to such interactions in the natural world that I learned about as a student. "People interact in a similar way, except that people need to use "words" to interact rather than particles." As emotional creatures and "thinking beings," we are always feeling and thinking about something. Both emotions and thoughts are communicated through the exchange of these particles or "words" to evoke empathy and create something new through the resulting "interactions." I believe personal growth is also created through such interactions.
Therefore, I have resolved to help achieve a "society brimming with empathy" by actively engaging in dialog with others, not only within Shimadzu, of course, but also in collaboration with our partners, customers, and stakeholders, through mutual interaction.
Please look forward to more great things coming from Shimadzu in the future.
Biography of Yasunori Yamamoto, President and CEO
Apr. 1983
 
Joined Shimadzu Corporation
Oct. 2003
 
Coordination Manager, Testing Machines Business Unit,
Analytical & Measuring Instruments Divisions
Jun. 2013
 
President, Shimadzu Europa GmbH (Germany)
Jun. 2014
 
Corporate Officer
Jun. 2017
 
Managing Executive Officer
Jun. 2017
 
In charge of manufacturing, informationsystem, and CS
Jun. 2017
Deputy director in charge of technology research
Apr. 2020
 
In charge of corporate strategy planning and corporate communications
Jun. 2020
 
Director, Member of the Board
Apr. 2021
 

Senior Managing Executive Officer

Apr. 2021
CFO
Apr. 2022
President and Representative Director (current)
Apr. 2022
CEO (current)