To achieve sustained growth for the Shimadzu Group and increase the corporate value in the medium and long term, we have used the establishment of the Corporate Governance Codes as an opportunity to implement a wide variety of governance reforms.
We asked the Outside Directors currently working with Shimadzu to provide their frank comments about future issues they may have noticed as business conditions have changed for the Board of Directors or hopes they have for Shimadzu, for example.
Expecting Sustained Growth by Focusing Management Resources on Important Issues
Despite facing a second year of impacts from the COVID-19 pandemic, the past year has been a good year for Shimadzu, with steady progress toward achieving results. However, rather than feeling content with the good results, it is important to take an approach of challenging yourself. Reviewing the results, we see several issues that we need to tackle in order to ensure Shimadzu reaches its peak potential. Development of human resources is necessary to generate the next generation of leaders that will be needed as Shimadzu aims to achieve global growth, and organizational reforms are necessary to promote diversity. However, based on my experience, the progress of such measures has been slow and lacking. Sufficient human resources with new skills and who can drive the company forward must be prepared. Though governance improvements are being achieved, Shimadzu must quickly start doing what needs to be done to ensure governance practices actually reach the perhaps excessively large number of subsidiaries throughout the world. Digital transformation (DX) reforms have only just started. They will help ensure additional business growth across the organization. Rather than implementing only minor reforms, it will require courage and passion to implement the major reforms necessary for avoiding slower business growth or stumbling due to any big problem in the near future. In terms of strengthening corporate strategy, it is important to reassess the strategy by reviewing the current business portfolio to create new Shimadzu strengths as well as accelerate growth in European and U.S. markets. It is good to clarify important issues, so I hope the new organization headed by the new President Yamamoto and new Chairman Ueda will focus management resources on important issues and be united in ensuring sustained growth.
To help Shimadzu achieve additional growth, as an outside director I intend to promote more active discussions and real solutions for important topics within the Board of Directors. As the Chair of the Appointment and Compensation Committee, I intend to increase committee effectiveness and offer appropriate advice to the director in charge.
Outside Director Hiroko Wada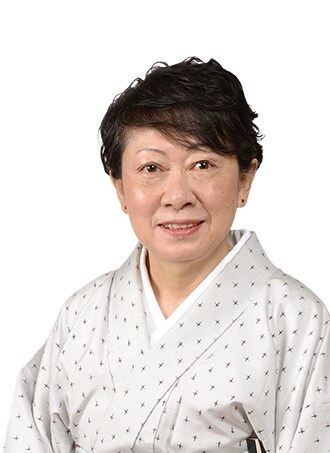 Hoping for a Release of New Healthcare Products in Europe and the United States
Despite the COVID-19 pandemic and other uncertainties in FY 2021, Shimadzu managed to achieve record profits with the overseas sales ratio reaching 53 %. That success was presumably because measures to improve overall corporate governance and strengthen businesses in North America and Europe are bearing fruit. On the other hand, from a global perspective, competitors also achieved impressive results due to strong demand, so it does not necessarily mean Shimadzu is now in an advantageous position. One characteristic example is that in past and current medium-term management plans, Shimadzu has invested R&D resources in the healthcare field and that resulted in successfully deploying various products with technical superiority for infectious diseases, dementia, and cancers in Japanese markets. On the other hand, Shimadzu has deployed almost no such products in markets outside Japan.
Deploying products in North American and European markets is particularly important because it can have spillover effects in other countries, so Shimadzu should consider releasing new healthcare products in North America and Europe first. Similarly, Shimadzu should also consider releasing new high-end analytical products in those markets first. An effective way to create globally successful products is to develop them in a highly competitive environment, which makes it important to invest in human capital for that purpose. Considering that current operating circumstances are providing growing cash reserves, Shimadzu could engage in M&A in North America and Europe and probably use M&A to hire top talent in those markets. That would probably also require changing the company culture that was established mainly by Japanese so that it is more open from the perspective of personnel outside Japan. As an outside director, I hope Shimadzu will provide some opportunities for us to interact with non-Japanese Shimadzu personnel so that we can better understand actual circumstances and offer better advice.
Outside Director Nobuo Hanai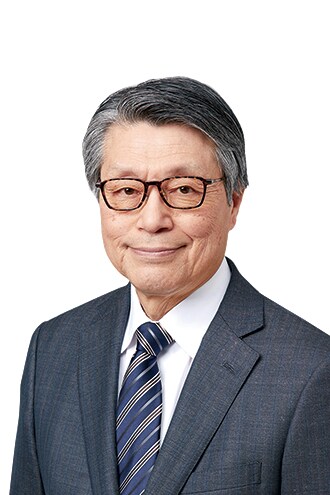 Sustainability Management Requirements
After roughly a year since I was appointed as an outside director, I think Shimadzu corporate governance systems are now at an appropriately healthy level for the Prime Market. Shimadzu has made steady progress during the past year alone by going beyond simply establishing a basic framework to also quickly implementing measures in a solid manner.
After all, sustainability management practices should be implemented in coordination with a business portfolio that contributes to that kind of healthy corporate governance and sustained growth. Currently, the Shimadzu organization comprises four business segments centered around analytical and measuring instruments, but in the future, overall corporate value needs to be increased by not only establishing even more business strategies for individual business segments, but also efficiently allocating resources to each segment. That will make it essential to establish new business portfolio management systems and then implement corporate strategies based on those systems. I think that is the most important issue that should be discussed at Board of Directors meetings. Shimadzu operations are becoming increasingly globalized, with the consolidated net sales from outside Japan now exceeding 50 %. However, at this stage, Shimadzu has merely reached the starting line for becoming what can be called a truly global company. Therefore, I look forward to sharing views about strengthening risk management and corporate governance, establishing a human resources strategy, and addressing other urgent issues at a global level, and to offering appropriate and valuable advice.
Outside Director Yoshiyuki Nakanishi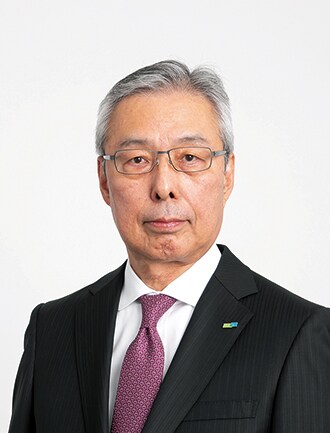 Fulfilling my Responsibility for Leading Shimadzu Corporation in a Direction Expected by Stakeholders
Thank you for appointing me as a new outside director. Most of my previous work has been in the financial industry. Using my experience in corporate finance and as an M&A advisor at a foreign financial institution in Japan, the investor perspective I cultivated at an asset management firm, and the diverse points of view I learned from living outside Japan for 17 years and raising children as a working parent, I want to fulfill my responsibility for leading Shimadzu Corporation in a direction expected by stakeholders.
Shimadzu's slogan for the medium-term management plan is "Become a Company That Solves Challenges in Society in Collaboration with Partners." The analytical and measuring instrument products that account for over 60 percent of Shimadzu sales, such as products for developing drugs we all need for living worry-free lives, for ensuring food hygiene, and for reducing environmental pollution, enable the visualization and analysis of problems and contribute to the development of solutions by customer companies. Shimadzu must actively invest in developing human resources, digital transformations (DX), and innovation even during times when business conditions involve uncertainties, such as geopolitical risks, inflation, a weak yen, or supply chain problems. At Board of Directors meetings, in addition to offering fair supervision, I also hope to serve in fulfilling my responsibility for ensuring the management team takes appropriate risks, Shimadzu becomes a company that contributes even more to society through science and technology, and corporate value increases.
Outside Director Nami Hamada