The Eco-Club is an environmental activities team formed within Shimadzu Corporation. The club was established in 1999 to educate employees about the environment. The "Eco" in the name is a play on words for "ecology" and the term in the Kyoto dialect meaning"a good boy/girl" (i.e. someone that chooses to do the right thing).
Consisting mainly of female employees, it offers a uniquely female perspective and sensitivity for creating educational tools for teaching not only those in the workplace, but also children, and for going out to teach on-site classes about the environment.
Description of Eco-Club Activities-Outside Shimadzu-
On-Site Classes

On-site classes are offered on three topics "Solving Global Water Problems," "Garbage and Recycling," and "The Global Environment and Biodiversity."
Creating Environmental Teaching Tools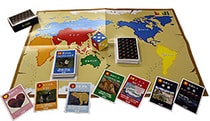 "bidi"-Japanese/English
"bidi" is a card game about the diversity of biological organisms. To prevent the extinction of species, it is necessary to know what species have already gone extinct, why they went extinct, and why endangered species are close to extinction.
The IUCN (International Union for Conservation of Nature) Red List was created for that purpose. This game was created based on the Red List.
Created jointly: By students from both Doshisha University and Kyoto Seika University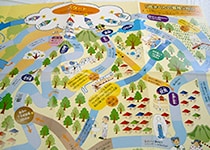 "The Adventures of Mr. Rainwater" Sugoroku
This sugoroku type board game teaches about protecting water quality and conserving water resources, based on the water systems of Lake Biwa and Yodo River.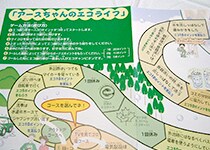 "Eco-Life of Earth" Sugoroku
This sugoroku type board game teaches how to help prevent global warming in our daily lives.