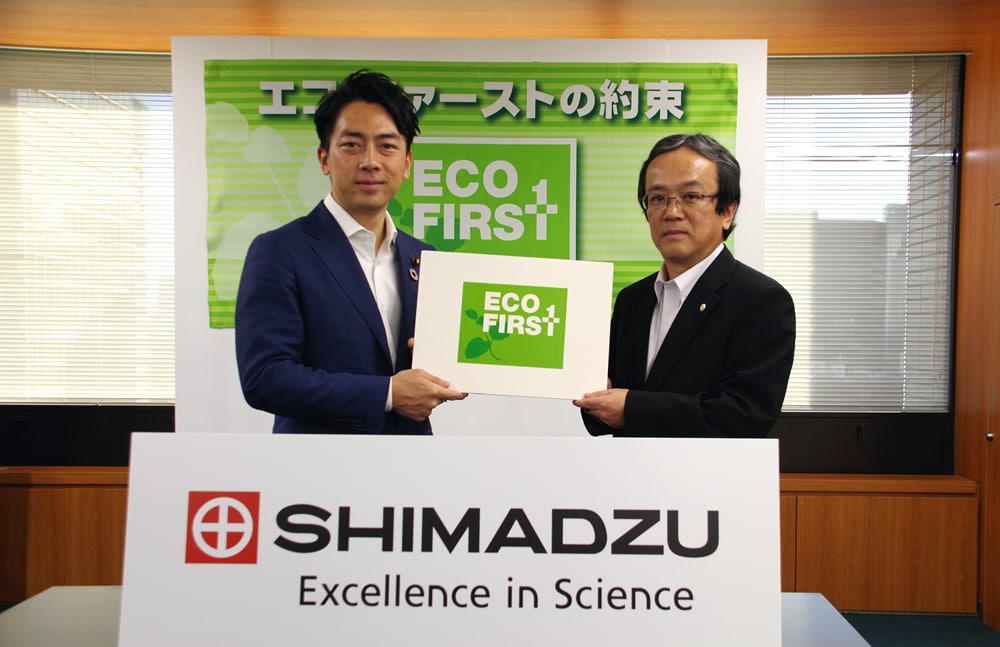 Left: Shinjiro Koizumi, Minister of the Environment, Right: Teruhisa Ueda, President
(October 21, 2020, titles are both as of the certification ceremony.)
On October 21, 2020, the Minister of the Environment designated Shimadzu as an 'Eco-First Company'. This is the first time in the precision equipment industry.
Based on the "Eco First Program" the Ministry of the Environment certifies the companies that promise to engage in environmental conservation initiatives that are "innovative, unique and spillover effect" and that are carrying out industry-leading activities.
Our company is engaged in a variety of initiatives to address environmental issues with the aim of realizing "decarbonized society" and "recycling-oriented society." We are strengthening measures to reduce environmental impact, such as reducing CO2 emissions and improving the recycling rate of waste at all our business sites. Also, in order to provide products with superior environmental performance, our company is promoting the "Eco Products Plus" initiative, which certifies products that meet such standards as reducing power consumption by 25% or more compared to previous models. We are developing all new products with the aim of reducing their environmental impact.
For many years, we have developed and supplied analytical and measuring instruments that support global environmental conservation. In recent years, we have also focused on supporting the development of new technologies in the environmental and new energy fields.
Shimadzu Corporation contributes to achieving harmony between the earth, society and people and realizing a sustainable society through initiatives for the conservation of biodiversity, based on our corporate philosophy "Contributing to Society through Science and Technology" and our management principle "Realizing Our Wishes for the Well-being of Mankind and the Earth."
Eco-First Commitment (outline)
Implements measures for addressing climate change

Implements measures for establishing a recycling-oriented society

Develops and supplies products and services that promote global environmental conservation

Engages in biodiversity conservation activities

Actively engages in environmental conservation activities involving each employee



*Click on the image to view it in PDF.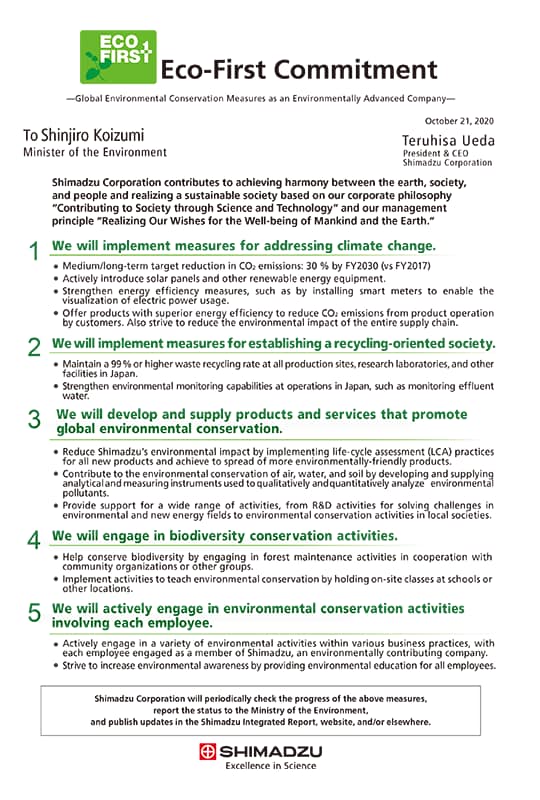 [Our company's Environmental Conservation Initiatives]
August 31, 2020

January 10, 2020

September 20, 2019

May 27, 2019
The Eco-First Program
The purpose of this program is to promote environmental initiatives in various industries. Under this program, a company promises the Minister of the Environment its specific environmental initiatives to respond to climate change and build a recycling-based society, and the Minister certifies that the company engages in "advanced, unique and industry-leading business activities" in the environmental field.
As of October 2020, 50 companies in various industries have been certified.