Promotional System for Environmental Activities
As the ultimate deliberative body for environmental issues, we have set up the "Environmental Meeting" chaired by the President, attempting to deal with environmental problems as one of our business challenges. Moreover, we have a companywide promotional system under the Environmental Committee chaired by executive management based on ISO 14001. With the environmental strategy committees that handle cross-organizational issues taking the lead, company-wide environmental activities have been proceeding, engaging the production, research and sales bases and major affiliate companies nationwide.
On the other hand, we have a comprehensive management system, closely cooperating with other committee organizations supervising approval and authorization, and safety and health affairs for the entire company.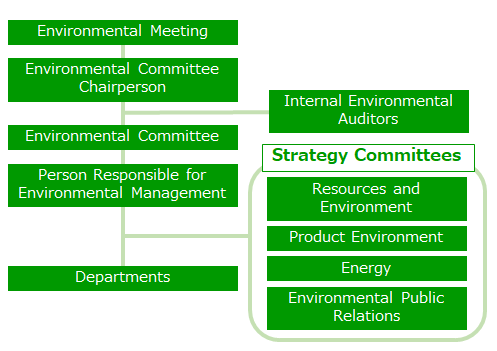 External Auditing
Our company has acquired ISO 14001: 2015 certification, the international standard for environmental management systems.
From February 1, 2021 to April 7, the certification was renewed for compliance with ISO 14001: 2015, the international standard for environmental management systems, and the certification was maintained. The external auditing organization praised our company's proactive implementation of environmental conservation activities through its business activities and its internal education on SDGs using e-learning.
Certification Body
Japan Quality Assurance Organization (JQA)
Applicable Standard
ISO 14001:2015
Authentication Range
SHIMADZU CORPORATION

Head Office ・ Sanjo Works、Oike District, Seta Works、Technology Research Laboratory (Keihanna)、Murasakino Works、Hadano Works、Atsugi Works、Tokyo Office, Kansai Office, Sapporo Branch, Tohoku Branch, Tsukuba Branch, Kitakanto Branch, Yokohama Branch, Shizuoka Branch, Nagoya Branch, Kobe Branch, Shikoku Branch, Hiroshima Branch, Kyushu Branch, Shimane Medical Office

SHIMADZU SYSTEM SOLUTIONS CO., LTD.

Head Office・Kyoto Branch、Factory、Flowmeter Calibration Center、Tokyo Branch、Yokohama Branc、Kitakanto Sales Office、Nagoya Branch、Osaka Branch、Fukuoka Branch

Shimadzu Advertising & Communications

Head Office、Tokyo Branch

SHIMADZU INTERNATIONAL, INC.
SHIMADZU BUSINESS SYSTEMS CORPORATION

Head Office、Tokyo Office

SHIMADZU GENERAL SERVICES, INC.

Head Office、Tokyo Office、Seta Office

SHIMADZU LOGISTICS SERVICE CORPORATION

Head Office、2nd Logistics Department Seta Branch Office、1st Logistics Department Murasakino Branch Office、International Logistics Department、2nd Logistics Department Hadano Branch Office、1st Logistics Department Hikawa Branch Office、Nishikyogoku Branch Office

Shimadzu Labor Union
SHIMADZU TRUSTECH CORPORATION

Head Office、Hadano Office、Seta Office

SHIMADZU PRECISION TECHNOLOGY, LTD.

Head Office、Kyoto Office、Kusatsu Factory

SHIMADZU ACCESS CORPORATION

Head Office・Tokyo Branch、Tokyo Branch Proofroom、Tokyo Branch Proofroom & Warehouse

SHIMADZU AIRCRAFT EQUIPMENT SERVICE, LTD.

Head Office

Shimadzu Medical Systems Corporation

Head Office、Kansai Branch Kyoto Office、Chushikoku Branch Shimane Office

SHIMADZU A-TECH MANUFACTURING CORPORATION

Sanjyo Factory、Murasakino Factory、Atsugi Factory

SHIMADZU DEVICE CORPORATION

Head Office・Kyoto Factory、Atsugi Factory、Kalnew Iida Factory

SHIMADZU INDUSTRIAL SYSTEMS CO., LTD.

Head Office・Seta Works、Hadano Works

Shimane Shimadzu Corporation

Head Office、Kyoto Office

SHIMADZU PRECISION INSTRUMENTS, INC.

Japan Branch

TAIHEIKOGYO CO., LTD.
Shimadzu Techno-Reserch, Inc.

Head Office Main Building、Head Office Annex、Tokyo Office、Hadano Office

SHIMADZU RIKA CORPORATION

Head Office、Head Office

Shimadzu Aerotech Manufacturing, Inc.

Head Office Works

Shimadzu Science East Corporation

Head Office

Shimadzu Science West Corporation

Head Office

Shimadzu GLC Ltd.

Head Office
Head Office Sanjo Works First certification date: 1997/6/24
Internal Environmental Auditors
Internal environmental auditing is for checking whether we are making reliable progress with respect to the goals and targets that we have prescribed for ourselves as well as for remedying any deviations from these targets at an early stage and is a very important measure to maintain ISO 14001. Internal environmental audits are performed efficiently in line with the implementation plans for each year. Business organizations and departments that pose significant environmental risks are monitored selectively based on items designated in previous internal environmental audits and external audits, as well as revisions to environmental related laws and regulations, and the management status of environmental facilities and chemical substances. In addition, the activities performed include not only the discovery of con-conformities, but also the identification of case studies of favorable activities within the measures of departments being audited, which can then serve as a pattern for other departments, thereby sharing them within the company through horizontal deployment.
In 2019, internal environmental audits were implemented with respect to 34 departments and 4 Strategy Committees. As a result, 3 cases of non-conformity were identified in 3 departments. In all cases however, measures to remedy the situation were pursued according to plan, in order to prevent a recurrence.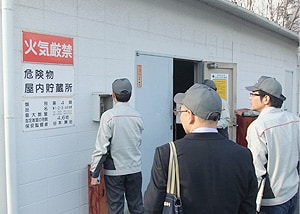 Environmental Committee
Important environmental issues are deliberated and decided on in an environmental committee, which meets biannually in April and November. To ensure that Shimadzu's environmental management system remains appropriate and effective, the committee conducts a management review in April to deliberate environmental policies for the new fiscal year, and environmental goals and objectives. In November, environmental improvement awards are bestowed on groups and individuals that have achieved prominent environmental improvements through daily activities within the company.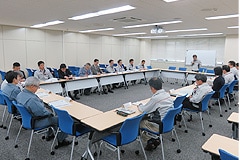 Environmental committee