Promotional System for Environmental Activities
As the ultimate deliberative body for environmental issues, we have set up the "Environmental Meeting" chaired by the President, attempting to deal with environmental problems as one of our business challenges. Moreover, we have a companywide promotional system under the Environmental Committee chaired by executive management based on ISO 14001. With the environmental strategy committees that handle cross-organizational issues taking the lead, company-wide environmental activities have been proceeding, engaging the production, research and sales bases and major affiliate companies nationwide.
On the other hand, we have a comprehensive management system, closely cooperating with other committee organizations supervising approval and authorization, and safety and health affairs for the entire company.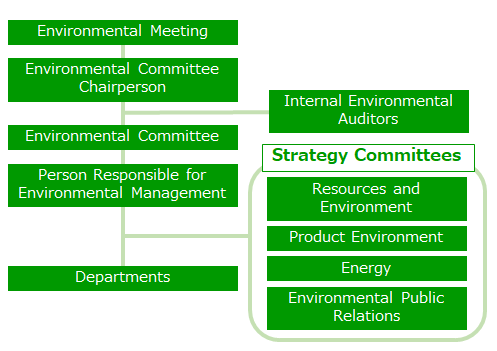 External Auditing
In May 2019, Shimadzu's environmental management system was audited and certified for compliance with ISO 14001:2015, an international standard for environmental management systems, as a periodic surveillance audit and a review for expanding the range of certified locations to nine locations.
The external auditing body recognized that Shimadzu has been continuously engaged in activities for maintaining and improving the environmental management system while considering SDGs and other international frameworks, and also that Shimadzu has continued to take on business challenges toward achieving targets specified in the medium-term management plan.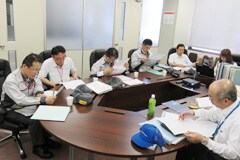 External Auditing
Environmental Committee
Important environmental issues are deliberated and decided on in an environmental committee, which meets biannually in April and November. To ensure that Shimadzu's environmental management system remains appropriate and effective, the committee conducts a management review in April to deliberate environmental policies for the new fiscal year, and environmental goals and objectives. In November, environmental improvement awards are bestowed on groups and individuals that have achieved prominent environmental improvements through daily activities within the company.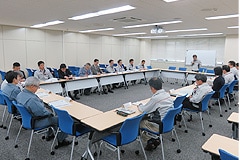 Environmental committee