Basic Policy
We shall offer products and services with superior quality at reasonable prices that provide maximum value to customers.
General Policy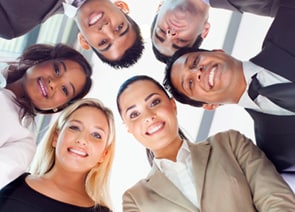 (1) Pursuing Customer Satisfaction
We shall offer safe and secure products and services with high added value that prioritize customer value.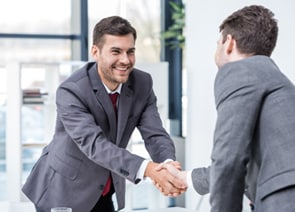 (2) Creating New Value Jointly with Customers
We shall create new value by sincerely considering customer views and wishes.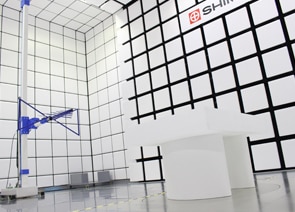 (3) Ensuring Thorough Quality Control and Safety Management
If a quality control or safety management problem occurs, we shall strive to solve the problem quickly and implement thorough measures to prevent recurrence.
Basic Quality Assurance Policy
In an unceasing effort to supply quality that increases customer satisfaction at all stages of the product life cycle for all products manufactured and sold by the Shimadzu Group, we have established "provide quality which satisfies customers around the world at each stage of the product life cycle through the diligent efforts of all our employees" as our basic corporate policy for quality assurance.
We are working to improve customer satisfaction by establishing capabilities that ensure work measures and systems at each stage of the product life cycle can be changed flexibly in response to changes in market and customer requirements.
To improve the quality of Shimadzu Group products, systems, and services, customer satisfaction surveys are periodically conducted to obtain feedback from customers.
We share the valuable opinions and requests received from customers with applicable personnel so that we can implement improvement measures that will result in improved customer satisfaction.
necessary, such as to express their views or requests, as part of a system able to respond quickly.
The product life cycle includes 12 stages (1 marketing and market surveying, 2 product design and development, 3 process planning and development, 4 procurement, 5 production, 6 verification, 7 packaging and storage, 8 sales and distribution, 9 installation and initial use, 10 technical support and service, 11 post-sales surveying, and 12 end-of-life disposal or recycling).
Quality Control Policy: Guaranteeing Product Quality and Taking Responsibility for Manufactured Products
In an unceasing effort to supply quality that increases customer satisfaction at all stages of the product life cycle for all products manufactured and sold by the Shimadzu Group, we have established a basic corporate policy for quality assurance stating, "At each stage of the product life cycle, all employees shall make every effort to supply quality that satisfies customers internationally." Consequently, we are engaged in a variety of activities intended to achieve that policy.
Also, in an effort to improve product safety, which is fundamental and important for increasing customer satisfaction, and fulfill our social responsibility, we have established a basic position on taking responsibility for all products manufactured within the Shimadzu Group. It specifies improving product safety, providing appropriate information to customers about product safety, and striving to resolve any product accidents appropriately and quickly.
Measures to Further Improve Product Safety
Product safety is especially important for increasing customer satisfaction. In FY 2014, we established a new basic policy for product safety for the entire Shimadzu Group and issued a declaration that the entire Group is unified in acting in a manner that prioritizes the safety and trust of customers. That action plan consists of the following seven elements.
1) Observe all applicable laws and regulations.
2) Design safety into products.
3) Prevent misuse.
4) Ensure safety throughout the entire product life cycle.
5) Disclose information about product safety.
6) Respond appropriately in the event of a product accident.
7) Improve the quality assurance system.
As a specific activity consistent with the basic policy for product safety, we have been assessing the safety risks of products from a customer perspective by anticipating various ways the customer might use the products to confirm that the basic design is able to ensure safety. In addition, we perform endurance testing and environmental testing to verify that products continue to perform reliably and safely without any functional damage even if they are exposed to temperature or humidity variations or impacts during transport. We also specify that instruction manuals include information about how customers can use products without worry and useful precautions, prepared using our internallydeveloped manual creation system.
Introduction of the drop testing machine
As a means of accommodating increased globalization, we introduced a drop testing machine used to confirm that the packaging is safe even if the product is dropped or impacted during transport.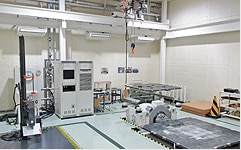 EMC Center Accredited as an EMC Testing Center Based on the International Standard ISO/IEC 17025 Also Designated as TÜV Rheinland Japan Appointed Laboratory
Most of the products around us, including those manufactured by Shimadzu, function using electricity. Such products all emit at least a small amount of electrical noise outside the instrument, either through the power cord and/or through the air as electromagnetic waves. If the amount of electrical noise emitted from the product is significant, it can sometimes cause other equipment in the surrounding area to malfunction.
Therefore, to prevent such malfunctions, products should emit as little noise as possible. At the same time, they should not malfunction if exposed to noise from other sources. Products that satisfy both criteria are described as having electromagnetic compatibility (EMC).
EMC must be measured in a room with no electrical noise, that shields any electromagnetic waves from entering the room, such as from mobile phones or television broadcasts. These rooms are called anechoic chambers. Therefore, there are three anechoic chambers (small and large) in the Quality Center, which are operated as a separate department (EMC Center) specialized in measuring EMC.
Measuring EMC accurately requires having an anechoic chamber and other special measuring instruments and strict measurement and control procedures must be followed. The personnel performing the measurements must have special skills as well. In order to officially and objectively evaluate the above as an EMC laboratory, in August 2014, the EMC Center received accreditation as a testing laboratory compliant with international ISO/IEC 17025 standards. Consequently, test reports issued by the EMC Center are recognized not only in Japan, but also throughout the world.
Then in November of that same year, the center was designated as a laboratory appointed by TÜV Rheinland Japan (TRJ), an independent institution, which endorses the center as a trustworthy testing laboratory and provides powerful credibility for the reliability of Shimadzu products.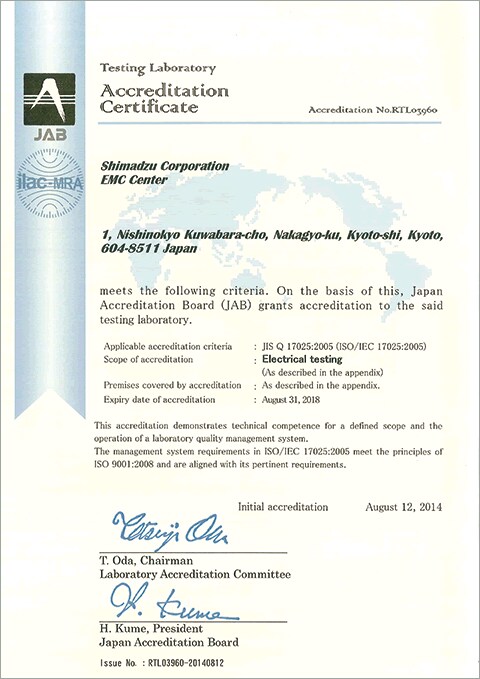 Comments from a Stakeholder
TÜV Rheinland Japan Ltd. (TRJ) has been performing EMC tests for Shimadzu medical products as an independent certification service provider for a long time. Before Shimadzu was designated as a TRJ appointed EMC testing laboratory, it was often difficult for us to obtain the measuring equipment, anechoic chamber, and measuring personnel necessary for performing EMC standards compliance testing according to the schedule requested by Shimadzu. However, now Shimadzu's EMC Center can conduct tests according to a test plan prepared at TRJ. Consequently, the tests can be performed to the same testing criteria as before without delaying Shimadzu's development schedule. This arrangement is mutually beneficial not only for Shimadzu and TRJ, but also for users that are waiting expectantly for the release of new products.
Some Shimadzu products do not necessarily require TRJ certification, but even for such products we hope Shimadzu will adopt TRJ's quality standards as a means of helping to improve quality. Furthermore, we look forward to the use of TÜV certification expanding in the future, as customers increasingly use it as a criterion for selecting products.
Go Murayama,
Team Leader, Medical Section,
Products Department TÜV Rheinland Japan Ltd.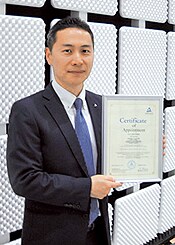 Obtaining quality management system
Since 1994 all the main divisions have introduced an ISO 9001 quality management system and engaged in measures to improve quality throughout the entire product life cycle in an effort to increase customer satisfaction.
In FY 2013, we built a Quality Center to ensure highly reliable product quality and increase satisfaction by further improving product safety and performing more extensive EMC testing.
Status of Shimadzu obtaining quality management system certification (Year of Approval)
- Analytical & Measuring Instruments Division (ISO9001:1994, ISO13485:2011)
- Medical Systems Division (ISO9001:1994, ISO13485:1994)
- Aircraft Equipment Division (ISO9001:1999, JIS Q 9100:1999)
- Industrial Machinery Division (ISO9001:1998)
- Manufacturing Center (ISO9001:2000)
- Device Department (ISO9001:2005)