Achieving a Sustainable Society and Growth by Creating Shared Value Through Solving Societal Challenges
To achieve a sustainable society and growth, Shimadzu collaborates with various stakeholders throughout the world toward using science, technology, and expanded networks within and outside the Group for not only by solving apparent challenges of customers, but also for actively solving society's increasingly complex and diversified challenges (latent customer challenges). As a result, we intend to continuously create value and become an entity even more needed by customers and society.
Specifically, we will promote creating shared value (value for both society and Shimadzu) through solving societal challenges by selectively prioritizing those targets, from the 169 targets identified for the 17 SDGs created by the United Nations, that are consistent with Shimadzu business activities. In other words, we will implement the Shimadzu Group strategic CSR policy.
Innovation will be very important for that process. Furthermore, generating market results from non-continuous innovations as quickly as possible is a key factor for generating business value that can be offered to global markets. Therefore, we intend to create new value by actively promoting joint research and open innovation work with universities, research institutions, companies, and other external entities. Working together in partnerships with external entities also serves to build mutually beneficial relationships by generating new realizations or additional new joint research projects.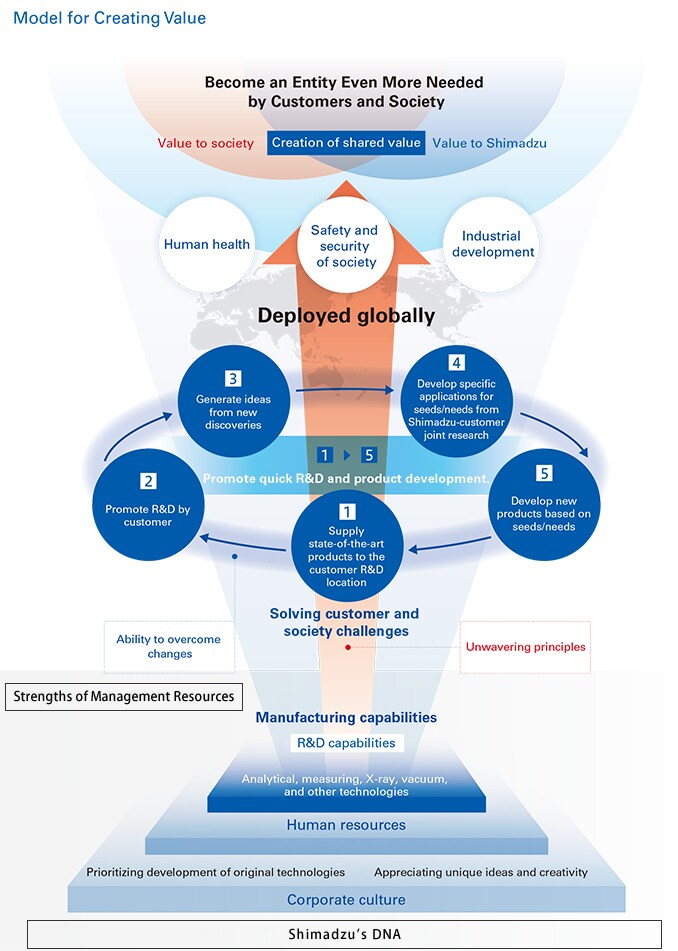 Strengthening Important Shimadzu Management Resources Not Indicated in Financial Statements
Combining diverse types of knowledge, experience, and senses of value provide the source or the new science and technology required by Shimadzu. Therefore, we believe that providing a workplace environment where employees are free to fully utilize their strengths is a necessity for continuing to be a company that attracts talented human resources and that is admired by society. That means the capabilities of human resources are essential for increasing our corporate value based on our corporate philosophy and management principle. Accordingly, the company is engaged in working practice reforms aimed at generating new ideas and managing health, further increasing both organizational and individual productivity, and promoting a goal-oriented approach to achieving sustained growth.
For such outstanding human resources to be able to supply revolutionary products and services, we need to take on the challenge of conducting R&D aimed at acquiring advanced technologies. Furthermore, in addition to a three-pronged strategy approach, consisting of an R&D strategy, business strategy, and intellectual property strategy, we are also deploying a standardization strategy in an effort to lay the foundation for long-term sustained growth.
To ensure we can sensitively identify market trends throughout the world and supply competitive products in a timely manner, we are also building a network of marketing, R&D, and production capabilities closely tied to respective local regions. To ensure customer satisfaction throughout the world, we will use that network to improve quality at all product life cycle stages, including marketing, market surveying, product design, development, production, and aftermarket services.
Achieving Sustained Growth for Society and Increasing Medium and Long-Term Corporate Value by
Comparing Business Activities to Sustainable Development Goals (SDGs)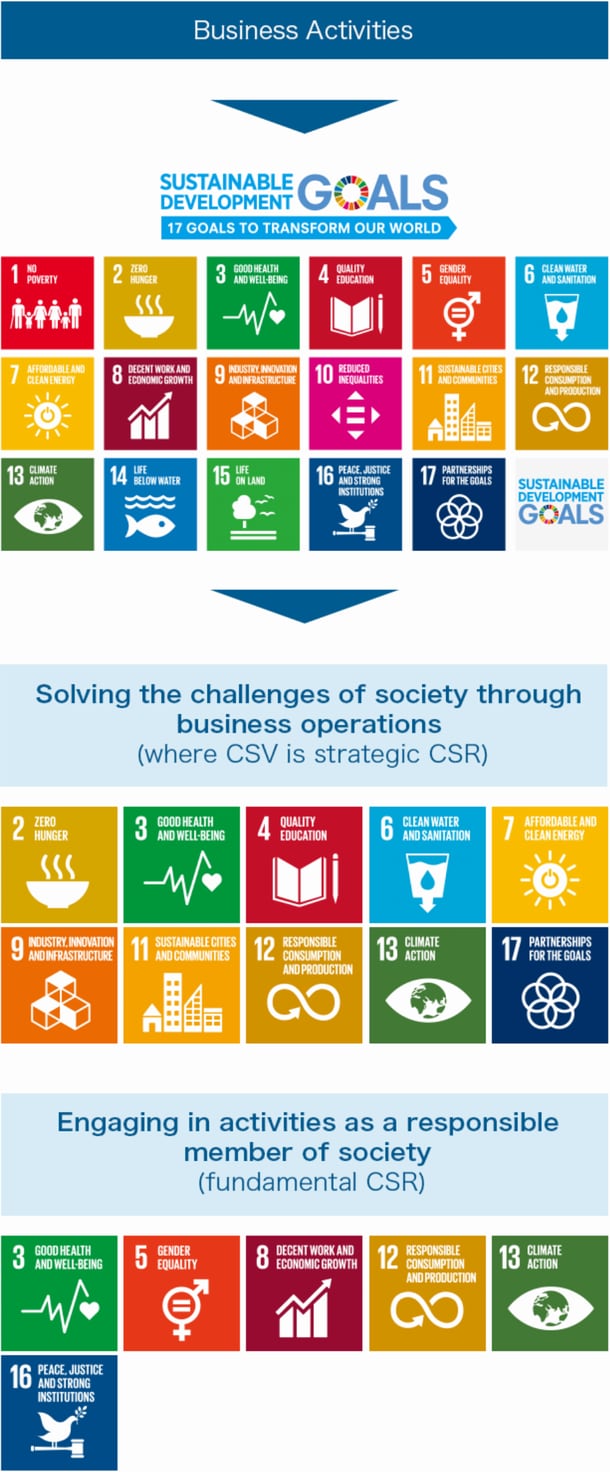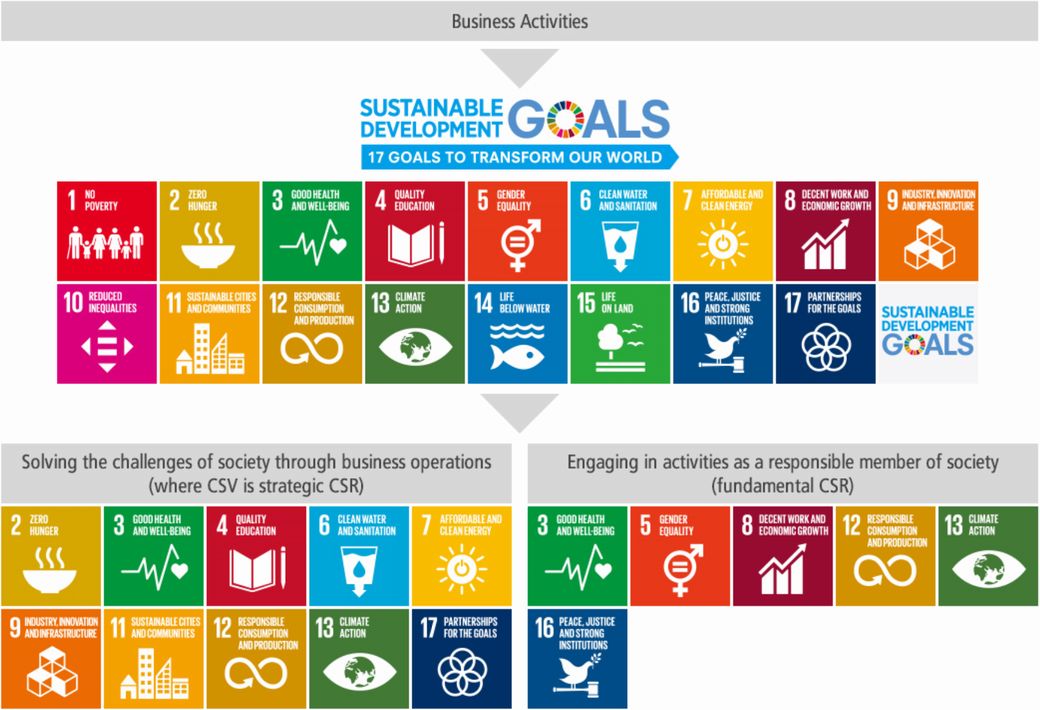 Shared Value Generated Together with Partners Throughout the World
Given the wide diversity of countries and cultures in the world, it is probably not an exaggeration to say that there are as many different challenges and needs as there are industries and lifestyles in each region. Such challenges and needs encourage the creation of new technologies and innovations for solving them. However, to create new technologies and innovations, it is essential that we work with local partners in the respective regions where the challenges or needs occur. Consequently, we are engaged in joint development or innovation creation projects with a variety of partners around the world. Such collaborations are based at innovation centers established in various regions around the world. Conducting joint research with advanced customers at the respective regional locations in North America, Europe, China, and Asia, allows us to produce results more quickly. By sharing those results with the other locations around the world, we are able to offer corresponding value to more people.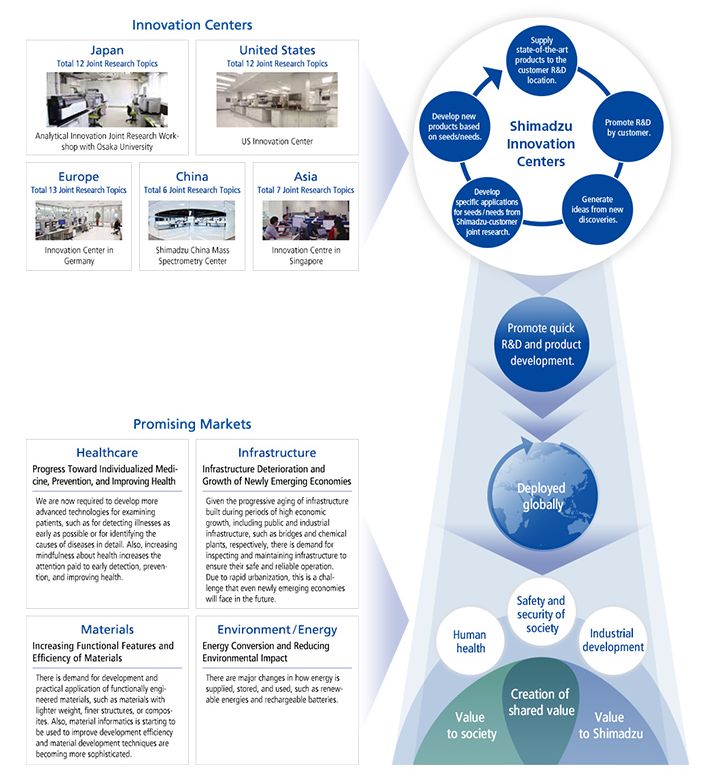 Healthcare R&D Center for Promoting Joint Research with
Advanced Medical Institutions Completed in February 2019
In February 2019 we completed a Healthcare R&D Center at the Head Office (in Kyoto). By consolidating various departments involved in healthcare-related development work in a single location, the center will promote integrating technologies from different business segments and more quickly commercializing key technologies obtained from projects, so that revolutionary new products are developed for the healthcare field or solutions that solve customer challenges are developed and supplied. In addition to integrating Analytical & Measuring Instruments and Medical Systems segments, the center will also serve as a location for open innovation through collaboration with advanced customers or outside researchers in order to expand the healthcare business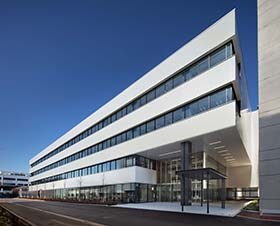 Healthcare R&D Center