Shimadzu's DNA
Throughout the over 145 years since Shimadzu was founded in 1875, we have remained committed to ensuring business continuity and progress by valuing an approach of facing facts head-on from a scientific perspective to discern their true essence, based on Shimadzu's corporate philosophy "Contributing to Society through Science and Technology" and management principle "Realizing Our Wishes for the Well-being of Mankind and the Earth."
That process has resulted in satisfying customer needs in a variety of fields while also expanding the scope of our business operations through advancements in core technologies and through applications of our products and technologies. In addition, we have carefully fostered an ecosystem within the company to ensure we have the new technology development capabilities necessary to meet the challenges of new business fields.
That approach of solving customer and societal challenges by confronting them head-on has been an unwavering principle that has served, and will serve in the future, as the foundation for the Shimadzu Group corporate culture throughout our history.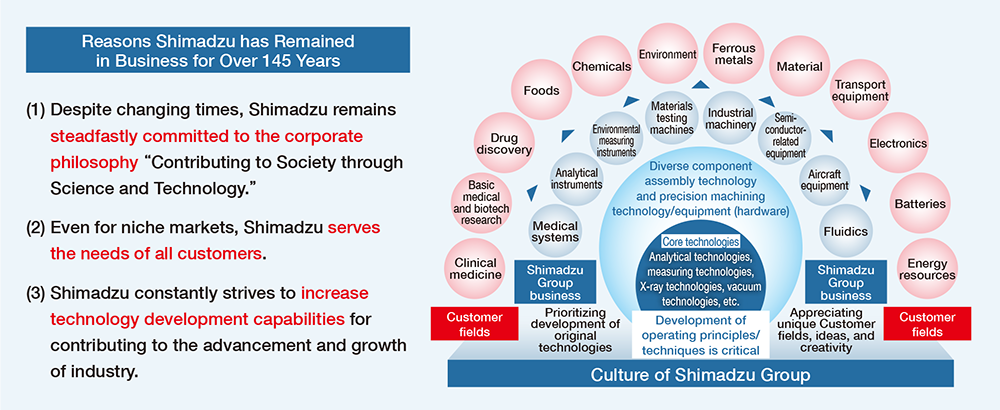 Model for Creating Value
Our societies face a mountain of challenges that need to be solved, including fighting COVID-19 and other infectious diseases, environmental issues such as climate change and microplastics, ensuring safe water and public health, maintaining public infrastructure, and addressing aging populations.
Meanwhile, as members of society, we are under strong pressure to fulfill our roles and responsibilities, such as taking action toward solving various issues that threaten the sustainability of society on a global scale, achieving the United Nations' sustainable development goals (SDGs), and complying with the Paris Agreement on climate change, and disclosing information accordingly.
Given these circumstances, the current business environment can be described as having a mixture of risks and opportunities.
While constantly questioning the significance of our existence in light of Shimadzu's core characteristics, we strive to create a better society, build the foundations for a prosperous, safe, and secure world, and become a company even more needed by society by working with partners around the world to solve challenges in our increasingly diverse and complex society using science and technology and to further increase value shared with customers and society.
The source from which our new science and technology flows is the combination of people with diverse expertise and senses of value. Therefore, we believe providing a workplace environment where employees are free to fully utilize their strengths is a prerequisite for attracting talented human resources and ensuring Shimadzu continues to be a company that is admired by society. In other words, human resources are essential for increasing corporate value based on our corporate philosophy and management principle. Accordingly, we are implementing working practice reforms intended to generate new ideas, practicing health management, further increasing productivity both organizationally and individually, and increasing awareness of our goal to achieve sustained growth of Shimadzu.
Using such talented human resources to offer innovative products and services will require engaging in ambitious research and development work intended to acquire advanced technologies. Furthermore, we are deploying a coordinated three-pronged combination of R&D, business, and intellectual property strategies in an effort to build the foundation for long-term sustained growth.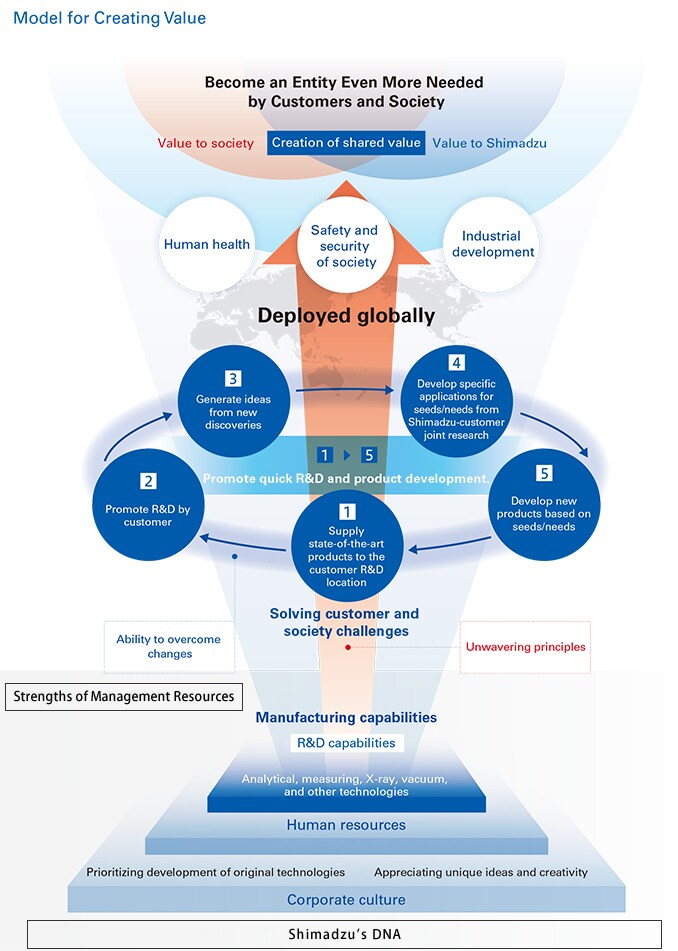 Shared Value Generated Together with Partners Throughout the World
Given the diversity of countries and cultures in the world, it is probably not an exaggeration to say that there are as many different challenges and needs as there are industries and lifestyles in each region. Therefore, we are promoting the creation of new technologies and innovations for solving and satisfying such challenges and needs. Furthermore, the competitive advantages they provide will depend on how quickly we can release such non-continuous innovations to global markets. However, to create such innovations, it is essential that we work with partners in the respective regions where the challenges or needs are located. Therefore, we are building a network of region-centric marketing capabilities, R&D capabilities, and production capabilities that allow us to sensitively identify market trends in respective regions throughout the world and then offer competitive products in a timely manner. In particular, the Innovation Centers established in respective regions of the world will be used as bases for creating new value through joint development and open innovation projects with a variety of partners around the world. Engaging in joint research with advanced customers at regional locations in North America, Europe, China, and other Asian countries has enabled us to achieve and share research results more quickly with other Shimadzu locations throughout the world, aiming to offer corresponding value to more people.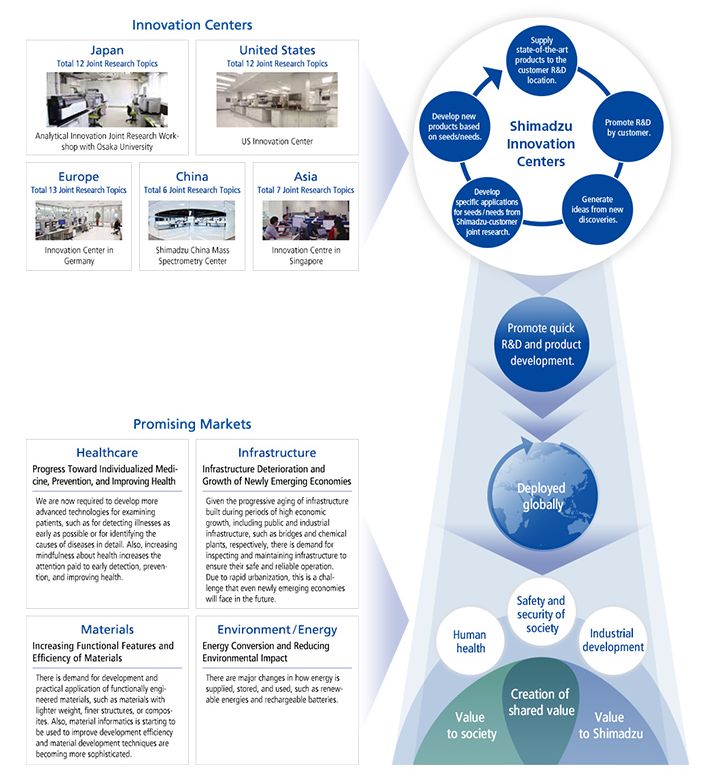 (Current as of July 2021)