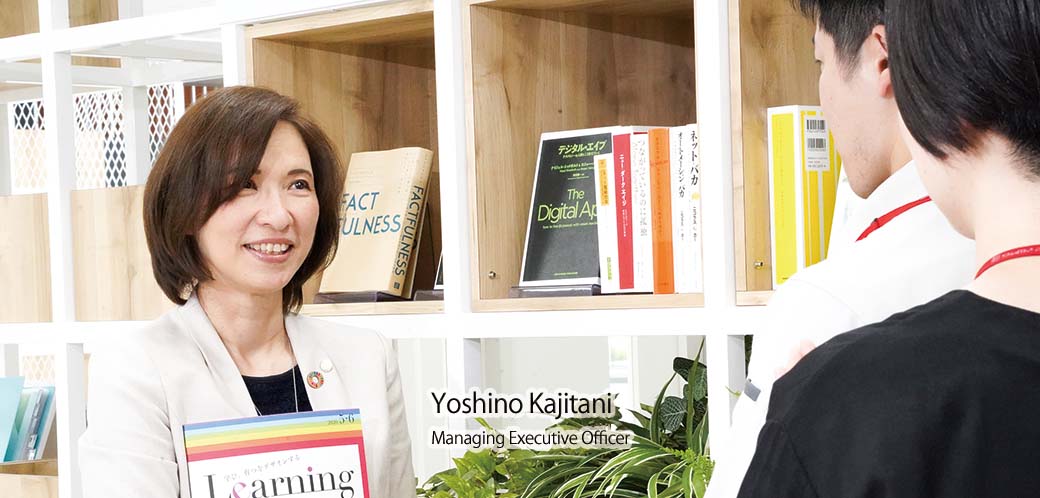 Valuing the People that Generate Innovation
Given our corporate philosophy "Contributing to Society through Science and Technology," solving challenges in society has been a core theme of Shimadzu Group businesses ever since the company was founded. Today, as we face intense changes due to what is referred to as "VUCA" (volatility, uncertainty, complexity, and ambiguity), continuing to solve challenges in society will require constantly generating new value and innovation. Since innovation is generated by people, that means it is people that will serve as the driving force for determining our future. Therefore, we all serve an important role of creating an environment where the respective strengths offered by each person can be actualized by combining our strengths.
Shimadzu has been an early leader in introducing and permanently adopting outstanding systems for prioritizing employee work-life balance, such as providing childcare and nursing care leave benefits. As a result, childcare leaves are taken by 16.7% of eligible men and 100% of eligible women. Shimadzu Corporation also offers long-term training for new employees (four months for technical personnel), a mentorship program, and other systems for developing human resources, a global 25-year long-service award system, and measures for company-wide celebration when employees reach the mandatory retirement age. These and other measures are implemented to achieve a corporate culture that values people. In the future as well, we will strive to promote the growth of people and businesses by continuing to provide support for more diverse working practices and by improving our training capabilities.
Supporting the Personal Growth of Each Employee
To improve the skills and expertise of individual employees, we provide career training and expertise improvement programs suitable for each stage of the long career journey, from joining the company as a new employee to leaving the company at mandatory retirement age. We also provide support for achieving growth through independent learning opportunities.
Furthermore, although currently conducted online due to the COVID-19 pandemic, in order to recognize the contribution by employees throughout the world and increase employee motivation, Shimadzu Performance Awards are presented by the President individually to each recipient.
Additionally, management by objectives (MBO) is used to clarify roles within organizations and empower employees. It is used to ensure employees and managers meet for communication about the goals set by employees based on company policies, the process of achieving the goals, and the progress and results achieved, to provide advice about expected roles and how to achieve those goals, and to assess their results. Although many issues remain, we intend to achieve employee growth and contribution by using that approach of employees setting their own growth goals and then achieving those goals, with results assessed based on the roles and actions expected for their given position. I think implementing such measures to promote company growth is an important topic for human resource development.
Strengthening Training of Global Human Resources
To promote operating businesses more globally, it is essential that we increase employee skill levels at locations outside Japan and develop more global employees at the Head Office in Japan. The Shimadzu Group aims to increase the capabilities of each employee and organization globally. To accomplish that, we offer a "Local Training Outside Japan" system that stations young employees at Shimadzu locations outside Japan to expose them to cultures in various countries or regions and promote personal growth through hands-on work experience outside Japan. We also have a "Global Manager Training" program that invites personnel from Shimadzu locations outside Japan to participate in management training in Japan in order to cultivate a better understanding of Japanese culture and Shimadzu corporate culture. Although the global human resource development process is just getting started, we aim to develop human resources that are able to think about the Shimadzu Group and execute measures from a global perspective.
Cultivating More Diversity as the Foundation for Innovation
In order to solve challenges in society, achieve sustained growth, and create corporate value in the current era of rapid changes, we must be able to respond to changes with flexibility, creativity, and innovativeness. Making full use of such abilities will require acceptance of unconventional ideas and increasingly diverse values, and rethinking of our previous preferences for homogeneity in organizations. It will also require management that can coordinate a more diverse variety of personnel, which is an important challenge for promoting diversity within the Shimadzu Group. We also intend to achieve organizational reforms that eliminate various barriers to working together in a manner that enables working cooperatively regardless of departmental affiliation. One such measure is the Shimadzu Diversity Day started last year to promote eliminating unconscious biases. That will presumably require a long process of small steps, but the first step is for each person to identify their own biases. Given that only 9.6% of management are women globally and only 4.2% within Shimadzu Corporation, increasing the role of women is a current challenge that is exacerbated by the fact that the Shimadzu Group has a low percentage of women employees overall. In the short term, we have set a target of increasing the percent of women in core management (to 6% or higher) and hiring more non-Japanese in Japan (at least three people per year). Revisions to the corporate governance code require disclosing the percent of non-Japanese and new hires with previous experience that have been promoted to management positions. Therefore, we are actively recruiting non-Japanese and experienced candidates and also implementing significantly more measures to promote increased diversity throughout the Shimadzu Group, including assessing global working practices by local personnel at locations outside Japan.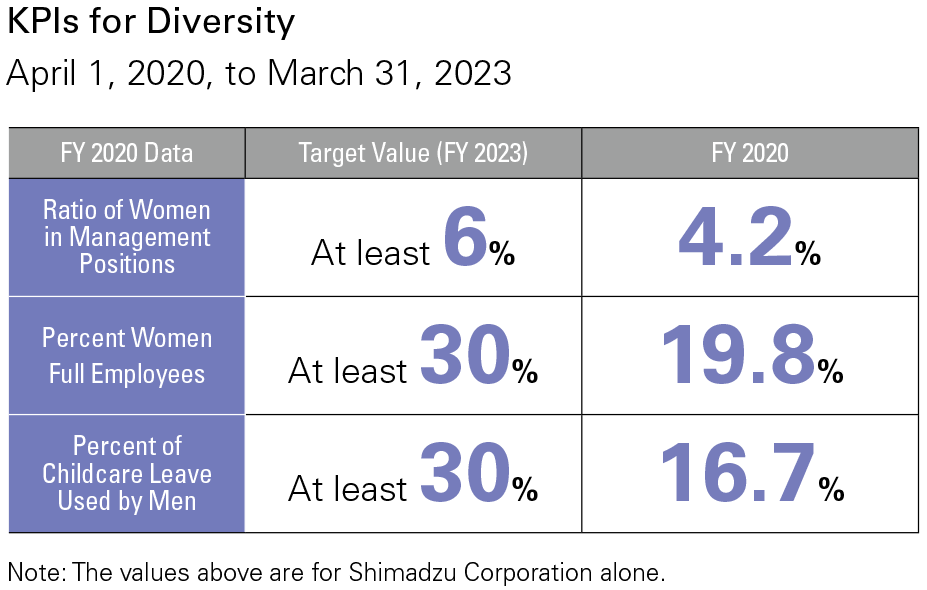 Establishing Characteristically Shimadzu Health and Productivity Management Practices Integrated with Business
Health and productivity management represents a core conviction of the Shimadzu Group, as expressed by our management principle "Realizing Our Wishes for the Wellbeing of Mankind and the Earth." We are therefore implementing health and productivity management measures characteristic of Shimadzu while integrating them into business operations. In an effort to share the benefits of using Shimadzu technologies with Shimadzu employees, Shimadzu has been offering free PET mammography examinations for preventing breast cancer. Currently, a PCR testing system has been installed in the health center within Shimadzu, where PCR tests can be performed within the company when testing is required for work purposes.
Employees can also access the system via a web-interface to not only prevent infection but also to check mental health. Employees with a health concern can use the Health Check system to talk to an occupational health nurse or use the Kencom health app to deploy online events, such as walking events or health check challenges.
When it comes to the topic of health, it mainly depends on the initiative of each individual. It is important to create systems that trigger the employees' impetus to take action by visually displaying their health status to identify which measures to implement and having them sense the importance of managing their health. Measures involve the effective use of Shimadzu technologies and include menus for a wide variety of health-related information, for example, so that employees enjoy managing their health, rather than feeling obligated. Health management systems are intended to ensure the wellbeing of each employee and the overall organization in coordination with other measures to ensure a healthy working environment, such as by improving employee working practices and communication within the company.
Training Human Resources for Leading Sustained Growth
Providing an organizational environment where each employee can freely work with vigor and enthusiasm and where their individual capabilities are fully utilized provides a foundation that will enable the Shimadzu Group to offer new value and achieve sustained growth. In addition to creating that foundation, we will develop the human resources for building global synergies and leading the sustained growth necessary for implementing management strategies.
Biography of Yoshino Kajitani,Managing Executive Officer.
Apr. 1984
 
Joined Shimadzu Corporation
Oct. 2007
 
General Manager of Export Management Department,Shimadzu International, Inc.
Oct. 2013
 
General Manager of Export Management Department,Shimadzu International, Inc.
Senior Manager,Business Systems Management Department and Business Process
Re-engineering Unit
Jan. 2014
 
President, Shimadzu International,Inc.
Jun. 2017
 
Corporate Officer, General Manager of Public Relations Department
Apr. 2019
 
Corporate Officer, General Manager of Corporate Communication Department
Apr. 2021
 

Managing Executive Officer in charge of human resources, diversity management and
health and productivity management(current)