Society Challenges
As the global population continues to increase, it reached 7.6 billion in 2017 and is projected to exceed 9 billion by 2050, which could affect a wide variety of fields. One serious challenge it will cause is environmental problems. Given the potential problems with climate change, waste management, and air, water, and soil pollution, for example, stricter environmental regulations are being established for the manufacturing activities of companies and their products. The environmental challenges in each country are diverse and uniquely characteristic of their geographic location, economic conditions, and other circumstances. Environmental pollution is especially prominent in the Asian region, with significant environmental pollution due to urban development and increased economic activity in some regions, while others are facing new problems after achieving a certain amount of economic growth.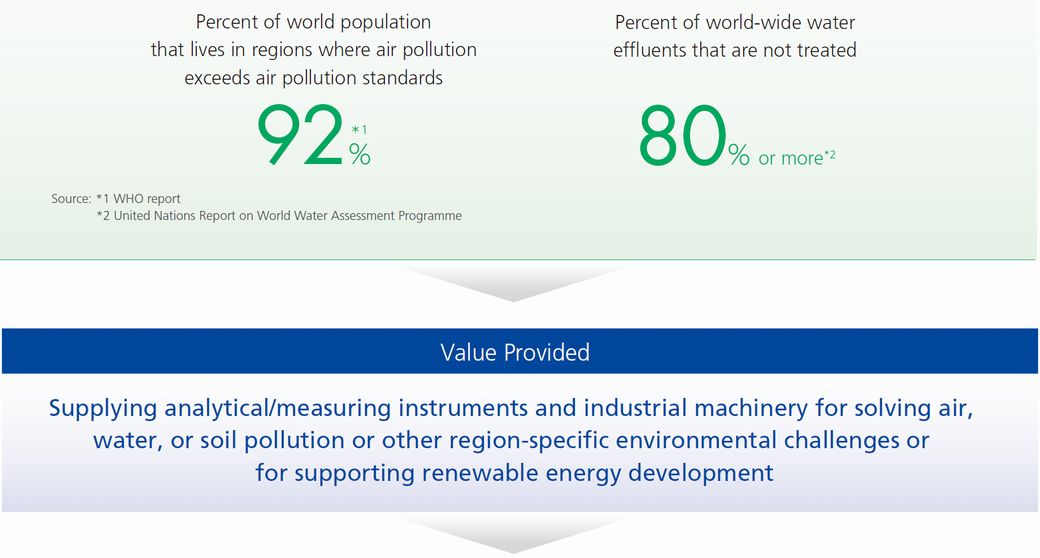 Contribution to SDGs
As societies look for ways to reduce their global environmental impact, stricter regulations are being established for manufacturing activities by companies and their products. Another challenge is the widespread use of renewable energies as an alternative to burning fossil fuels. Therefore, we will develop products that contribute to UN sustainable development goals (SDGs), such as products for monitoring global environmental conservation or for supporting the development of renewable energies.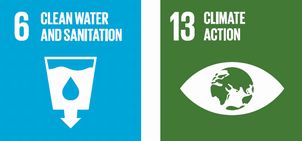 Measures by Shimadzu Corporation
loT/Contributing to SDGs Through Environmental Conservation Using Online Analyzers Equipped with IoT and/or M2M Technologies
Shimadzu online total nitrogen and phosphorus analyzers (TNP analyzers) are widely used to manage the concentration of nitrogen and phosphorus in effluent waters for compliance with total water pollutant load regulations. To prevent discharging water with high concentrations, more recent regulations require continuous data monitoring. Consequently, there is growing demand for TNP analyzers equipped with M2M functionality that enable instantaneous determination of instrument status, so that malfunctions can be prevented before they occur. Such systems can be used to continuously monitor measurement data or instrument sensing information via the cloud, which means customers can check data from their own office, rather than having to physically go to the instrument. Also, Shimadzu service companies can check the status before actually performing maintenance, so that customers can always operate the instruments without worry. We will promote the development of products that contribute to SDGs through environmental measurement of air, water, and soil environments, by continuing to add IoT and M2M functionality to gas emission analyzers, water quality analyzers, and various other online analyzer products, and also by expanding functionality that enables AI-based data analysis. We also intend to contribute to reforming customer working practices by offering labor-saving solutions.
System Process Flow of TNP Analyzers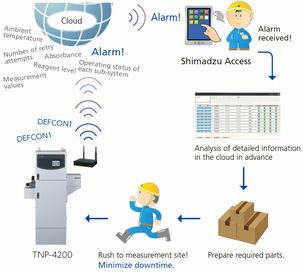 Measures by Shimadzu Corporation
In the renewable energy field, Shimadzu uses technologies and instruments cultivated as a broad-line manufacturer of analytical instruments and industrial machinery, to help customers with development, manufacturing, and quality assurance processes for applications such as lithium-ion batteries, fuel cells, solar power generation, biomass systems, and photocatalyst/artificial photosynthesis. For example, wood-based biomass power generation requires controlling the moisture content of wood fuel materials prior to combustion and measuring the presence and quantity of hazardous substances in the combustion ash. We contribute to solar power generation by supplying analytical data for development and quality assurance and by supplying Shimadzu turbomolecular pumps for creating high-vacuum environments essential for generating elements. Given that the renewable energy field will require additional market growth and technological advancements in the future, we intend to continue working toward achieving innovation and a sustainable society through the use of Shimadzu technologies, products, and services, while also contacting cutting-edge companies more than ever before.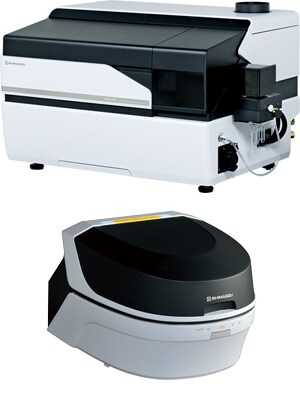 Shimadzu ICP mass spectrometer (upper) and X-ray fluorescence spectrometer (lower) useful for detecting hazardous substances from wood-based biomass power generation