Shimadzu offers "Eco-Products Plus" products,
which are products that are certified to achieve outstanding environmental performance.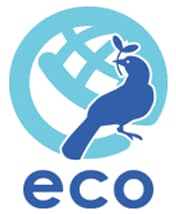 Certification criteria: Eco-Products Plus products must satisfy at least one of the following criteria compared to our previous models.
Criterion
1
At least 25 % lower energy consumption
2
At least 25 % smaller size (in terms of weight, volume, or footprint)
3
At least 25 % less use of consumables such as gases and solvents
4
At least 25 % reduction in CO2 emissions*1 based on life cycle assessment due to longer life
5
At least 25 % reduction in noise level*2
6
At least 25 % improvement in energy density*3
*1 The CO2 emission reduction rate is calculated using the following formula.
(Total CO2 emissions during the life cycle of the partially renewed model / useful life year extended by the partially renewed model) ÷ (Total CO2 emissions during the life cycle of the conventional model / useful life year of the conventional model)
*2 The noise level of a product that generates more than 40 dB of noise must be reduced by at least 25 %.
*3 Energy density is calculated as (rated pressure) × (rated flowrate).
In the case of a hydraulic pump, (rated flowrate) = (pump volume) × (rated rotation speed)
Fields Where Eco-Products Plus Products Are Offered
CO2 Contributing to Reduce CO2 Emissions
Thus far, over 143 types of energy and resource-saving Eco-Products Plus products have been offered since 2010. In 2020, Eco-Products Plus products helped reduce global warming by reducing CO2 emissions at the customer-use stage by 51,725 tons.
Number of Certified Eco-Products Plus Models Versus Reduction in CO2 Emissions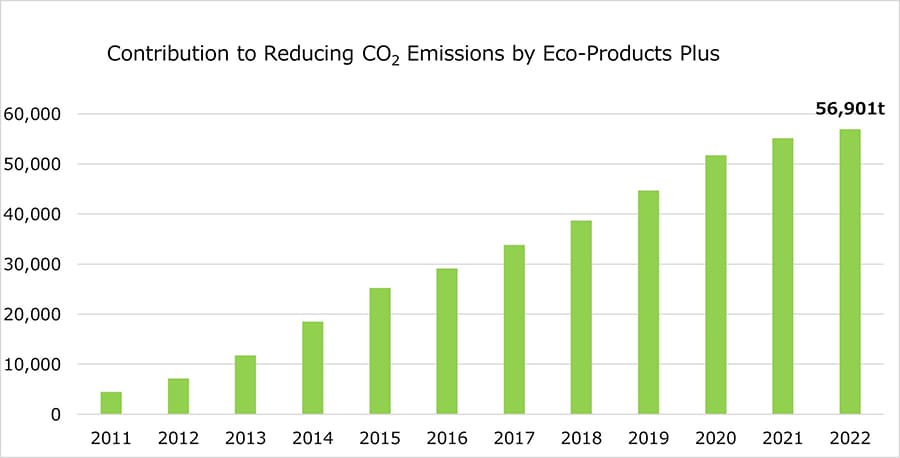 Shimadzu offers solutions to customers in a wide variety of fields, such as pharmaceuticals, medical care, foods, and chemicals, by constantly developing and manufacturing products that reduce environmental impact.
Supporting analysis, evaluation, and quality control during the pharmaceutical development process
Ultra High Performance Liquid Chromatograph
Nexera Series
Intended as a benchmark for other ultra high performance liquid chromatographs, this series features not only high-performance hardware, but also advanced functionality such as various sensing and internet-of-things (IoT) technologies.
The space-saving design of the solvent delivery unit, autosampler, column oven, and other units, results in a smaller system that requires less installation space without compromising data compatibility with existing LC systems or sample holding capacity. The shorter design ensures easy access to mobile phase bottles, regardless of the installation stand.
Furthermore, the Nexera systems consume about 70 % less power during standby (compared to the previous model), which helps improve laboratory operations.
The overall product performance achieves 25 % higher energy efficiency.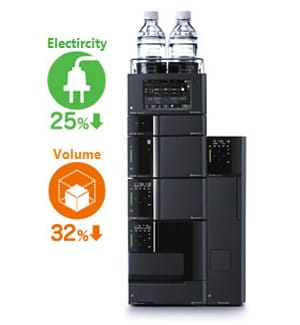 i-Series Integrated High-Performance Liquid Chromatograph Systems
Nexera-i and Prominence-i
These integrated high-performance liquid chromatograph systems provide completely new operating environments that help achieve computer-free laboratories where instruments can be controlled via a smartphone or other device.
Due to improved automatic shutdown functionality, the systems consume over 95% less power than Shimadzu's previous model during the standby mode. Power consumption is also dramatically reduced by reducing the time and increasing the speed per analysis cycle to between 1/10 and 1/20 of the previous level.
Consequently,they achieve 25% higher product energy efficiency performance.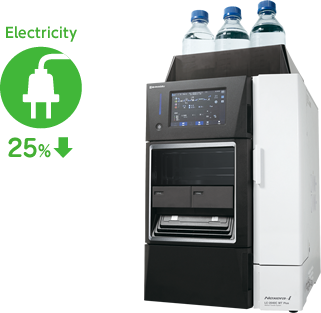 Analytical Balance
AP Series
Response time for measuring trace quantities as low as 1 mg is reduced to about 2 seconds. That significantly increases the efficiency of sample weighing operations. Furthermore, features such as an organic light emitting diode display are included to ensure solid support for routine weighing operations.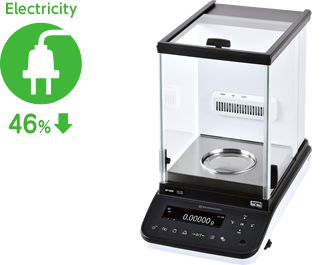 Providing support for analyzing components in raw materials, evaluating safety, and developing functionally-enhanced foods
Triple Quadrupole Gas Chromatograph Mass Spectrometer
GCMS-TQ8050 NX
This gas chromatograph mass spectrometer offers the world's highest sensitivity, making it ideal for situations that require ultra trace analysis.
The ecology mode can be activated automatically when a continuous analysis ends, which means it can be used to automatically save power after analyses that finish at night. Consequently, it achieves 26 % higher energy efficiency than Shimadzu's previous model.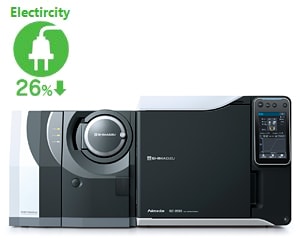 Contributing to environmental protection by analyzing air, water, soil, and emissions
Online Total Nitrogen and Total Phosphorus Analyzer
TNP-4200
This analyzer is used at manufacturing plants, wastewater processing plants, and a wide variety of other business operations to ensure river and other water quality standards by measuring the total nitrogen and total phosphorus content in effluent waters.
The system helps improve maintenance efficiency and reduce running costs, due to excellent performance that reduces reagent consumption and minimizes liquid waste, the sample pretreatment unit with a built-in automatic rinsing function, and touch panel operability.
The liquid waste volume is reduced by 30 %, compared to Shimadzu's previous model, by changing the measurement and rinsing sequence. That reduces the liquid waste disposal frequency and costs.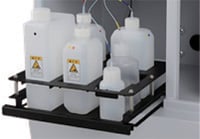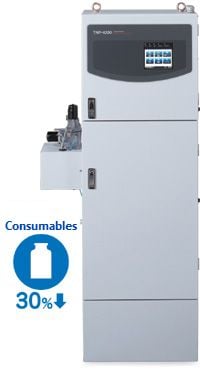 ICP Mass Spectrometer
ICPMS-2030
This system is used for R&D, quality control, and various other applications in environmental fields, such as measuring hazardous elements contained in public drinking water. Using Shimadzu's own mini-torch plasma system reduces argon gas consumption 33 % lower than Shimadzu's previous model. Consequently, one 7 m3 gas cylinder of argon gas can be used for about ten hours of continuous operation, which also reduces running costs.

Providing support for manufacturing and quality control of semiconductors, flat panel displays, electronic parts, and so on
Energy Dispersive X-Ray Fluorescence Spectrometers
EDX-7000/8000
These elemental analysis systems can be used for a wide range of applications, from compliance with environmental regulations, such as the RoHS/ELV directives, to sophisticated needs for general materials analysis in research applications. Due to the superior operability, it can be used by anyone from novices to laboratory experts involved in sophisticated analysis.
It achieves energy savings, consuming 44 % less power per analysis than Shimadzu's previous model.
Furthermore, it is smaller and lighter and no longer requires liquid nitrogen during analysis. Consequently, it achieves a 55 % reduction in CO2 emissions over its entire product life cycle.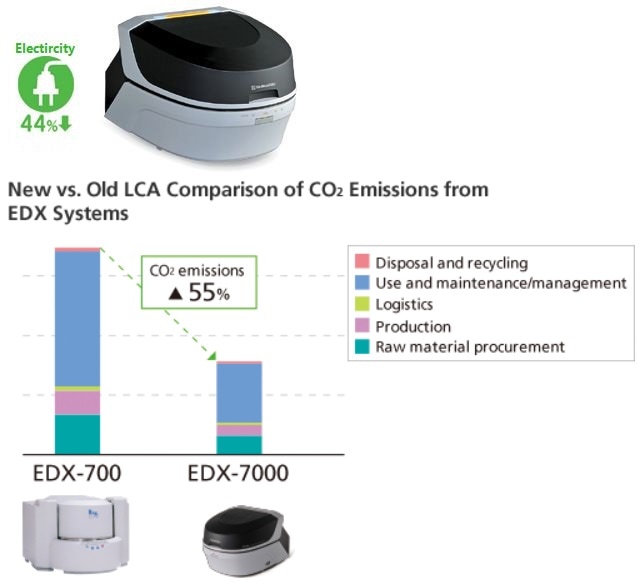 Turbomolecular Pump
TMP-B300
Turbomolecular pumps are ultra-high vacuum pumps used in a wide range of fields, such as semiconductor and flat panel display panel production processes or for general industrial applications.
Weight is reduced by 72%, volume by 73%, and installation footprint by 79 %, compared to Shimadzu's previous model.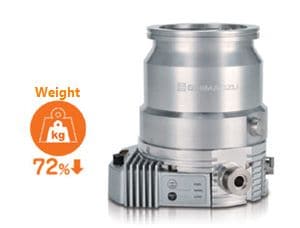 Evaluating the safety and comfort of automobiles, aircraft, and other transport equipment
Electric Motor Driven Actuator
NJ-SERVO
This vibration testing device is actuated by an electric motor drive system to enable high precision endurance testing and reduce power consumption by 78 %. It supports a wide range of automotive, aircraft, and other transport equipment testing, such as endurance testing of the main unit or individual parts.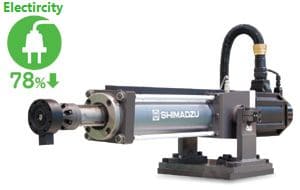 Supporting both diagnosis and procedure at medical institutions
Angiography System
Trinias Series unity edition
This angiography system is essential for interventional procedures in the brain or heart. This system is not only new and easy to use, it is also equipped with tools and functionality for meeting the needs of patients and medical personnel who are demanding even less invasive catheterization procedures as advancements in procedures occur daily.
Compared to Shimadzu's previous model, it requires a 32 % smaller installation space in the machine room, which helps maximize utility of the limited space available in operating rooms.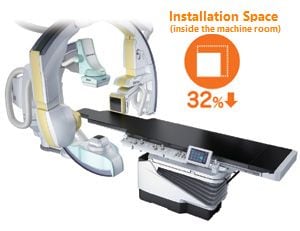 Dedicated Breast PET System
Elmammo Avant Class
This breast examination system can examine patients quickly by simply having patients lie face down on the bed and lowering a breast into the detector hole.
Mammography using X-rays involves pain from compressing the breast during examinations, but this system can examine patients while they are in a relaxed state without any pain.
It also achieves energy savings of 30 % versus Shimadzu's previous model.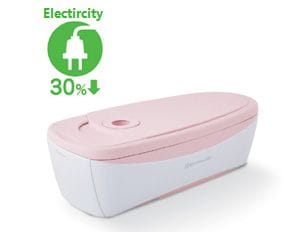 Supporting development and quality control of petrochemical products and new materials
Fourier Transform Infrared Spectrophotometer
IRSpiritt
This system offers both high expandability and a compact design that can be installed in a space equivalent to an A3 size sheet of paper. Equipped standard with specialized programs that can be executed by simply selecting the purpose of analysis, technique, and so on, to save labor during analytical processes.
In addition to having an 80 % smaller volume than Shimadzu's previous model, it is also 76 % lighter, has a 70 % smaller installation footprint, and consumes 62 % less power.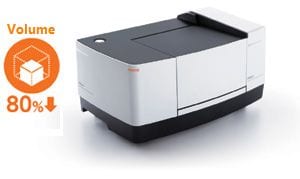 UV-VIS Spectrophotometer
UV-2600
Reducing the size of the optics achieved a significantly smaller installation footprint, weight, and volume. Therefore, it offers excellent cost-effectiveness and supports a wide variety of customer analytical processes.