At Shimadzu, we believe that product-related environmental concerns must encompass the entire product life cycle, from procuring materials and parts to disposal. To reduce the environmental impact of products over their entire life cycle, products are designed based on a policy of designing low environmental impact.
Evaluation of Products with LCA
Life Cycle Assessment (LCA) is a method to evaluate the environmental impact of products throughout a series of phases, from the mining of materials constituting products, to production, distribution, use, disposal and recycling. Evaluation of the latest models of our energy dispersive X-ray fluorescence spectrometers (EDX), certified as Eco-Labeled products, found that in addition to 44% energy saving compared with conventional models, they require no liquid nitrogen and are small sized and lightweight, thus achieving a 55% reduction in CO2 emissions. We will continue the product evaluation using LCA and provide environment-conscious products with better environmental performance in the future.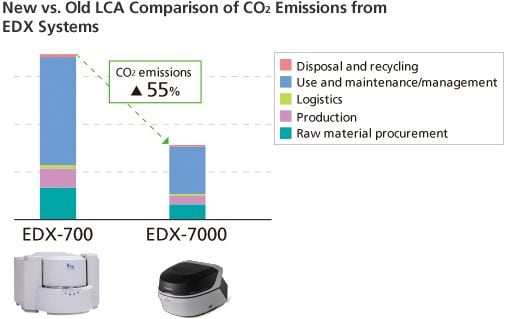 Procurement Policy and Green Procurement
The materials used in Shimadzu products are procured using a supply chain management system to build strong partnerships with suppliers in and outside of Japan. This helps form a deeper mutual understanding and develops a relationship where both parties can grow and develop.
Compliance with Various Laws and Regulations
Response to Regulations Concerning Chemical Substances Contained in Products
Starting from July 2014, the RoHS Directive*1 is applied to analytical and measuring instruments and medical systems, and Shimadzu has been supplying RoHS-compliant products to European countries. To guarantee compliance with the Directive, we procure materials based on the Green Procurement Standards, evaluate management conditions of the supply chain through on-the-spot inspections and conduct voluntary analysis of procured materials using analytical and measuring instruments. Moreover, we cooperate with our business partners through explanatory meetings and dialogues to maintain the quality of the supply chain as a whole. Further, in response to tightened enforcement of the RoHS Directive and REACH regulations*2, we are establishing a chemical substance content management system to identify and manage in detail chemical substances contained in products for further reduction of environmental load.
For these efforts to be successful, "Green Procurement," which is to preferentially purchase materials with less environmental load, is essential, based on a better partnership with domestic and overseas suppliers. Shimadzu will build a good relationship through which both parties can grow and develop through transactions.
*1. RoHS: EU Directive on Restriction of Certain Hazardous Substances (2011/65/EU)
*2. The regulation concerning the Registration, Evaluation, Authorization and Restriction of Chemicals, which came into force on June 1, 2007