Waste and Recycling Measures
Due to the performance growth in the analytical/measuring instruments and industrial machinery fields during FY 2021, the total output of unnecessary items (sum of waste materials for disposal and metal shavings or other valuable substances for resale) from key Shimadzu business and research facilities in Japan increased 6.2% (year on year) to 5,645 tons. Meanwhile, the quantity of waste materials increased 2.6% (year on year) to 2,126 tons. To maximize the utility of Earth's finite resources by establishing a recycling-oriented society, the Shimadzu Group strictly ensures compliance with laws and regulations and practices the three Rs (reduce, reuse, and recycle) at each workplace.
Accordingly, Shimadzu has set a target at least 99% recycling rate (quantity of unnecessary items output minus the quantity eventually landfilled divided by the quantity of unnecessary items output) for waste management. The actual recycling rate in FY 2021 was 99.59%, which was achieved for 12 consecutive years.
To promote 3R practices, "eco leaders" and "industrial waste leaders" are appointed for each workplace to ensure waste items are properly recycled or discarded. Trash is appropriately sorted, stored, and managed with a manifest. To ensure compliance with laws and regulations, company internal regulations and procedures are specified and implemented, including conducting on-site inspections of outside waste management vendors.
We will continue to implement measures for using resources sustainably.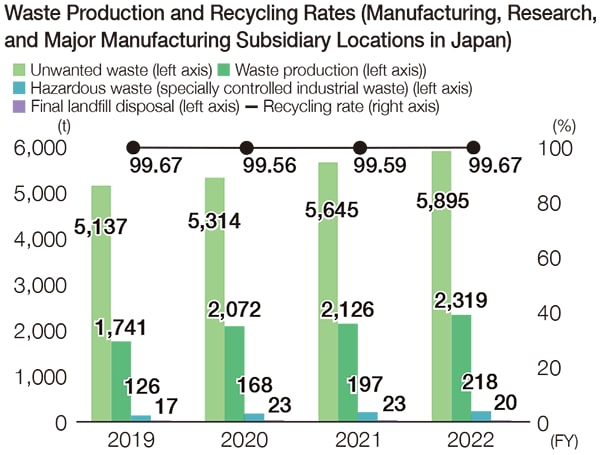 Introduction of IoT-Based Automatic Plastic Waste Collection System
A system to automatically collect plastic waste generated from plants was introduced in January 2020 to increase recycling rates and reduce CO2 emissions. Currently, the systems have been introduced at five locations within and outside Shimadzu in cooperation with suppliers, including at Sanjo Works and Seta Works, which have high plastic waste output levels.
Using IoT technology means waste management companies can determine the quantity of waste stored at each site in real time without having to travel to the site. Consequently, they can collect waste from multiple sites at more appropriate times to increase loading efficiency, reduce travel distances, and help increase supplier recycling rates. In the future, we intend to further contribute to environmental conservation by expanding the introduction of the systems within the Shimadzu Group and achieving widespread use in society.
This initiative is a Kyoto Prefecture demonstration project, in which Shimadzu was a participant and which received the ICT Regional Revitalization Award 2019 from the Japanese Ministry of Internal Affairs and Communications.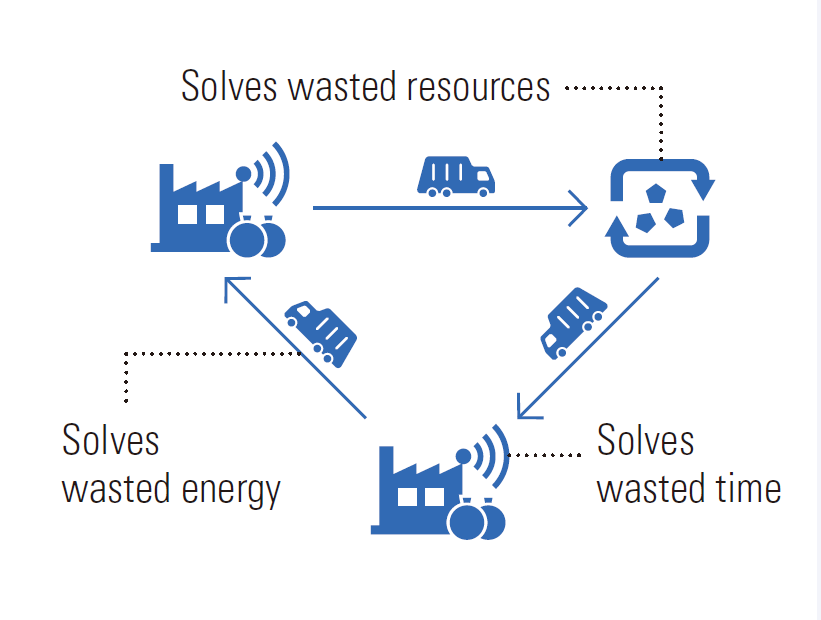 Shows waste quantities in real time Collection efficiency improved by collecting from multiple sites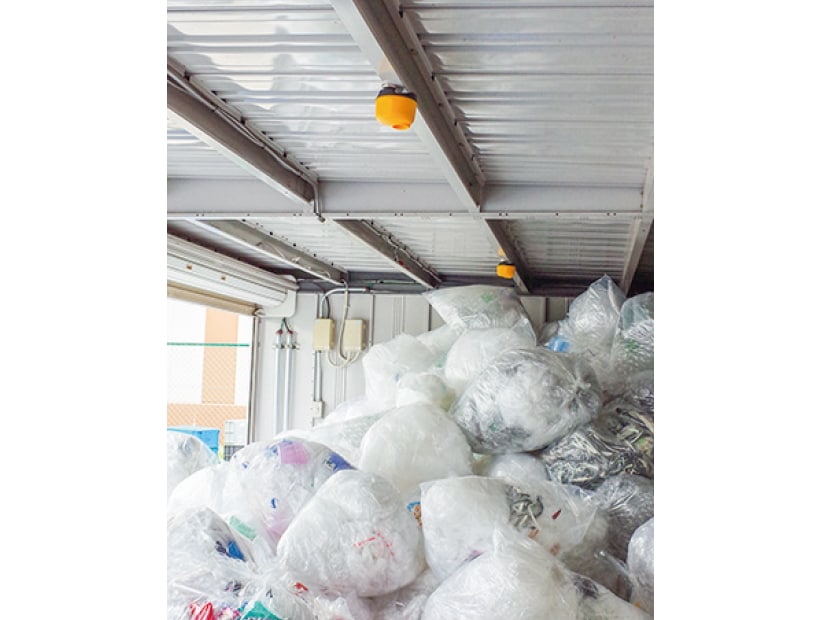 Sensors Installed (on ceiling) at Waste Collection Areas
Recycling of Wooden Pallets and Wood Debris at Seta Works
Generating wood debris from wooden pallets and packing materials used for shipping as part of business activities is unavoidable. At Seta Works (in Otsu City, Shiga Prefecture), such wood shipping materials are broken down and sent to a recycling vendor in the same Prefecture that converts the wood to carbon for reuse.
The charcoal produced by the recycling process is used to improve soil in green areas of Shimadzu properties or donated to the NPO Setouchi Olive Foundation in Teshima (Kagawa Prefecture) for use in the five olive groves operated by the foundation. It is also converted for events or other uses, such as a deodorizing agent or to extend the life of cut flowers.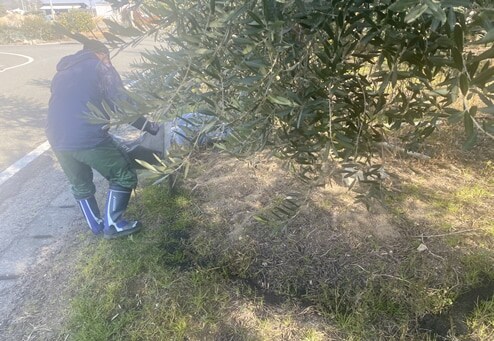 Scattering Charcoal
at a Setouchi Olive Grove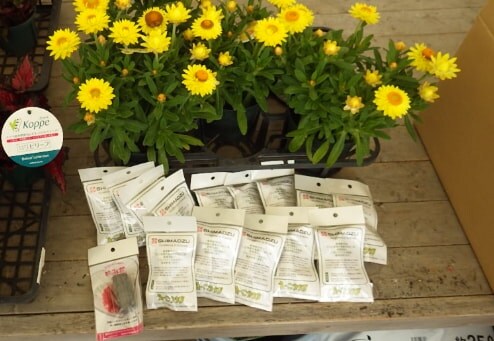 Charcoal Donated to Botanical Garden for Extending the Life of Cut Flowers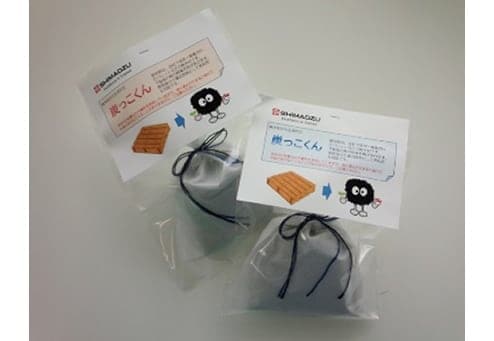 Making promotional deodorizing charcoal
Recycling of Paper Waste
One of the environmental activities that all employees can participate in is sorting paper waste from offices and plants. Sorted and collected paper waste is recycled into unique notebooks for reuse by employees. Having employees experience the benefits of environmental activities in such a tangible way helps them become more aware of environmental activities.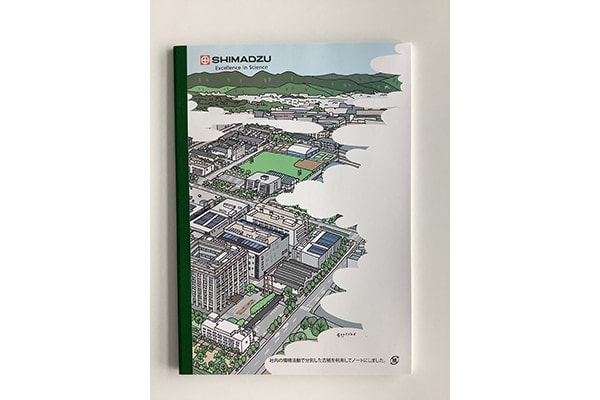 The Handling of PCBs
Transformers, capacitors, and other devices containing highly toxic PCBs (polychlorinated biphenyls) are disposed of in accordance with the Japanese Act on Special Measures Concerning Promotion of Proper Treatment of PCB Wastes. (PCBs are particularly toxic to biological organisms because they are highly persistent and bioaccumulative.) Of the PCB waste materials owned by Shimadzu, Shimadzu started processing transformers and capacitors, which contain high PCB concentrations, in FY 2013 and will finish processing all the PCB waste within the time frame specified in the Japanese Act on Special Measures Concerning Promotion of Proper Treatment of PCB Wastes.
Meanwhile, Shimadzu Techno-Research Inc., a Shimadzu Group company, offers an easy method for analyzing the quantity of trace PCBs in two types of insulating oil. This measurement technology is able to quickly and inexpensively provide highly reliable measurement values and was even included in the Manual for Simplified Measurement of Trace PCBs in Insulating Oil (3rd edition), published by the Japanese Ministry of the Environment in May 2011.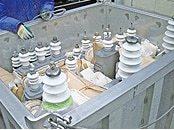 Promoting Environmentally-Friendly Packaging
Shimadzu Logistics Service Corporation is engaged in a wide variety of activities for environmental conservation within its logistics activities. Of these, they are currently focused on switching to more environmentally-friendly packaging materials. Previously, heavy items were typically packed in crates made of lumber and plywood, but now they are switching to reinforced corrugated cardboard. The environmental benefits of switching to reinforced corrugated cardboard include conserving wood resources and reducing CO2 emissions during transport or incineration of the packaging materials. If wood materials are used, materials from Forest Stewardship Council-certified forests are recommended as a measure to promote biodiversity.
Furthermore, in an effort to reduce the amount of stretch wrap film (plastic) used to prevent loads from falling during transit, they started using reusable and efficient Eco Band pallet straps. Using the Eco Band straps has reduced the amount of plastic waste by 460 kg in FY2020.
We intend to continue activities in the logistics field that help conserve the environment.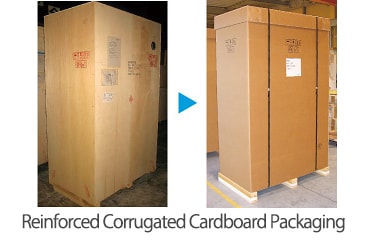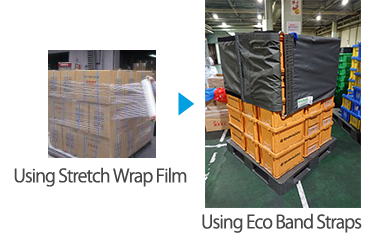 At a Shimadzu Group company in the UK, employees have been actively involved in implementing environmentally-friendly reusing practices. One such measure is the "reusable supplier delivery container project," which involves using reusable packing boxes to transport purchased parts or service parts from suppliers. The container was designed in cooperation with suppliers based on operations during production. Using the containers, which are designed specifically for packing the given parts, offers a wide range of benefits, such as reducing expenses from damage during transit and from less disposable corrugated fiberboard box waste.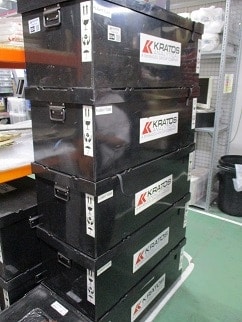 Independently Designed Supplier Delivery Containers